Bright Future Prize gets ready to choose its finalists!
ACT's Bright Future Prize is now closed for entries to its 2023 competition!
Through the prize, ACT searches the globe for teenagers aged 13-19 with aspirations to make a difference to the world around them – whether through community, the environment, technology, or arts and sport.
We received entries from teens stretching from Brazil to Australia with a whole host of ideas. Here's a sneak peek of just some of them...
Creating an online news forum to support aspiring young journalists in the UK
Using coding to educate young people about climate change in Australia
Developing a youth suicide prevention programme in Rio de Janeiro
Protecting towns from forest fires in Portugal
Developing a youth entrepreneurial and mentorship  programme in the UK
Establishing a network to support homeless people in New Jersey, USA
And so many more...!
For now, find out how our young finalists will be chosen, and who will be in with a chance of winning a share of £40,000 to invest in their community project ideas!
Re-cap! What is the ACT Bright Future Prize?
The Bright Future Prize was founded by ACT, Ardonagh's independent charity, in 2021 in memory of Freddie Williams, son of Towergate colleague David and his wife Sarah, who is now an Independent ACT Trustee. Freddie died from a rare from of cancer and to honour his legacy, ACT gives back to young people to support them to make a difference - with his parents helping our ACT Trustees choose our Bright Future winners each year.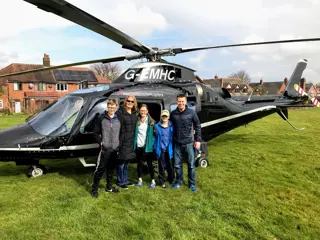 Through the annual competition, ACT empowers and invests in tomorrow's community leaders by searching the world for young people with amazing ideas for projects that aim to make a difference.
To date, over £60,000 has been won in funding by young people and in 2023/24, a further £40,000 will be won by teens with a passion to do good across four categories.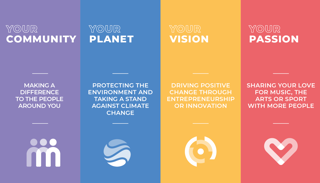 Choosing our 2023/2024 winners. What happens next?
We've had entries from teenagers in countries right across the world, stretching from Brazil to Australia.
In December, our ACT Trustees will review the applications and make the difficult decision of selecting a shortlist of finalists.
Our finalists will then be filmed, so we can learn even more about them and their bright ideas and which we will share with you through our finalists showcase towards the start of 2024.
In March, our ACT Trustees, along with Freddie's parents, will then choose our winners, who will share the £40,000 prize fund which will enable them to turn their idea into a reality!
Get a feel for winning ideas
Our 2023/24 winners are still to be chosen, but we've had some incredible young people already be crowned Bright Future champions over 2022 and 2021. Here's a snapshot of their ideas and you can visit the Bright Future Prize page to learn more!
Dawn to the Light, 2021 winners
From Manchester, UK, our first ever winners were a teen trio formed of Demereece , Aaliyah and Ahtasham. Together, their bright idea was all about supporting young people's mental health - through the medium of video game. Their game, Dawn to the Light, isn't simply about playing it's about learning and caring too.
Thanks to the funding from ACT, they've been able to develop and test they're game, and after plenty of work, time and dedication, launched it in September this year!
Kaydi, 2022 winner (Your Community category)


Kaydi, from Livingston in Scotland, used her own experience of autism to set up her non-profit, Diversified, as a platform to sell affordable sensory toys. Since then, it has turned into a fully-fledged charity with online and face-to-face programmes for teenagers and families.

Now, thanks to Bright Future Prize, Kaydi has opened a physical home for Diversified, so that its services can be accessed by even more young people. Ealier this year, we were also delighted to share that Diversified had won national recognition, awarded Scottish Charity of the Year and Kaydi has since been nominated as a finalist in the National Lottery Awards in the Young Hero category.

Sara, 2022 winner (Your Planet category)


Sara's bright idea started with the desire to find a more environmentally friendly way to generate wind power. To tackle this, Sara has designed an eco-turbine blade made from wood, which she had been testing and refining for over a year at home in Co. Leitrim, Ireland.

Since winning, Sara has continued to develop her idea, visiting an aerospace business to learn from experts and showcasing her own idea to charities and organisations. She's on track to purchase her own machine to begin producing the blades and taking her project to the next stage.

Muhammad, 2022 winner (Your Vision category)


Muhammad from Blackburn, UK, is part of his school enterprise project, Uniformity which upcycles school uniforms, enabling parents at Tauheedul Islam Boys' School in Blackburn to donate and purchase used clothing via an innovative e-commerce platform. But here's the difference – the profits go straight into funding the school's food bank.

Thanks to funding from Bright Future Prize, Uniformity has been able to expand, purchasing their own dry cleaning machine to reduce costs and upgrade their online platform to make it simpler to donate and purchase clothing.

Jeffrey, 2022 winner (Your Passion category)


Jeffrey earned his black belt in karate aged just 13, and in the four years since has used his skills to set up his own non-profit organisation Golden Age Karate, where he teaches martial arts to senior citizens (aka his 'Ninja Nannas') in local nursing homes in Ohio, USA.

Jeffrey's idea is to bring together this work with his other major passion – film, which he has just started studying as his major at college. He's using the funding from ACT to create a documentary that showcases the stories behind his Ninja Nannas, highlighting their life experiences and value to the community. Through this documentary he will go a step further to inspire other people to give back to older people who are local to them – whether that be martial arts or something else entirely.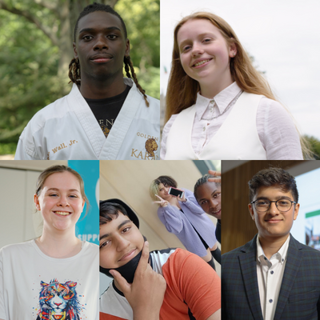 Learn more and keep up to date
Visit the Bright Future Prize page to discover the stories behind all our winners to date.
Follow ACT on Instagram and Facebook to keep in the loop about all things Bright Future, and ACT! Find us @ardonaghCT or 'Ardonagh Community Trust'.