Coming soon! Bright Future Prize gets ready to search the world to invest in young people
Each year, ACT searches across the globe to find young people aged 13-19 with ideas to make the world around them better, brighter and stronger.
ACT's Bright Future Prize empowers and invests in tomorrow's up and coming community leaders to turn their ideas into a reality – through a £40,000 prize fund.
In 2022, we had more entries than ever before and from across the globe, stretching from the USA to Australia – and it's safe to say we're hoping Bright Future Prize 2023/24 will see even more young people worldwide apply.
Discover the story behind Bright Future Prize, the inspirational stories of some of our previous winners – and, most importantly, get excited for this year's competition which will be launching this month!
The story behind Bright Future
The Bright Future Prize is rooted in its connection to young people, right to its origin. The prize was founded in 2020 in memory of Freddie – son of Ardonagh colleague David and his wife Sarah, who this year joined the ACT board of Trustees.
Aged seven, Freddie was diagnosed with a rare form of bone cancer and over the next four years he and his family were supported by a number of charities. To continue Freddie's legacy, David and Sarah help select our Bright Future Prize winners every year.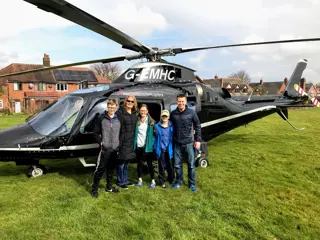 Although the situation we were in was awful, ACT getting behind charities that supported us during Freddie's illness made a difference to our whole family. To see Freddie's legacy continue through giving back to other young people is inspiring and I can't wait to see what this year's prize brings.
Sarah Williams, Independent ACT Trustee and Freddie's mum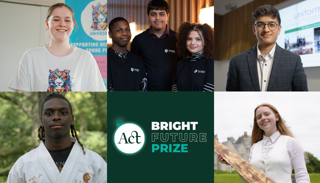 Empowering young people to make a difference
Since its inception, ACT's Bright Future Prize has already invested £60,000 in community projects spearheaded by young people.
Our four 2022 winners – Kaydi, Jeffrey, Sara and Muhammad – came from around the globe. Equally diverse were their winning project ideas, ranging from innovative designs for a recyclable wind turbine, martial arts for elderly people, and establishing a community hub to support neurodivergent young people.
Almost a year has passed since they each received £10,000 to invest in their projects. The funding has enabled each of them to take their project to the next level and in Kaydi's case, recognition on a national stage – with her self-founded charity, Diversified, named Scottish Charity of the Year in June.
Watch this video to hear more about their bright ideas and what the Bright Future Prize has meant to them.
Get ready! Bright Future Prize 2023/24 launches this month
ACT will be launching this year's prize very soon later this month, in September. Here's the lowdown on our prize categories and how young people will be able to apply.
The Bright Future Prize is open to young people aged 13-19, who live in any region where Ardonagh has a presence, including the UK, Ireland, Australia, Brazil, Portugal, Netherlands, Greece and Italy.
There are four prize categories, all connected to a different way young people can make a difference to the world. The winners of each category will share the £40,000 prize fund.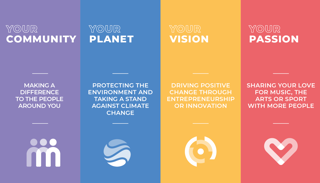 How to apply
To apply, candidates – individually, or as a group – will need to apply on the Bright Future Prize page of the ACT website where they will complete a form where they will propose their project idea, outline how they will use the funding to make their idea a reality and share how their idea will make positive impact.
The application form will go live in a couple of weeks' time! So, if you have young people in your network who are passionate about giving back and have an idea to make a difference, let them know about this upcoming opportunity.
We can't wait to hear from young people across the globe and to find out about their project ideas.
For now, learn more about the Bright Future Prize and our fantastic winners from 2022 and 2021 on the Bright Future Prize page of the ACT website.
Please note, the Bright Future Prize is open to external candidates only. Immediate family members of employees of The Ardonagh Group and its subsidiaries are not eligible to apply. Ardonagh colleagues have access to other funding avenues from ACT, including match funding and community grants.