Delivering essentials to the Ukraine border – Steven's story
Ardonagh and ACT are committed to supporting colleagues from across the Group wishing to fundraise towards the humanitarian response in Ukraine. We share the truly heart-warming story of colleague Steven Price, IT Service Delivery Manager in Towergate, who has gone above and beyond to make a difference to refugees who have fled to Poland.
Soon after the conflict began, Steven decided to collect donations for essential goods, initially with the intention of them being couriered to the border zone. However, Steven's expectations were soon surpassed, and he collected so many items that he decided to make the journey himself and deliver the donations to an aid centre in the town of Przemyśl, just six miles from the Polish-Ukrainian border. 72 hours, 40 hours of driving, and 2,500 miles later Steven – who was accompanied by his father – arrived back in the UK on 18 March.
ACT has supported his efforts, meaning in total Steven has raised over £9,000 which will be split across the British Red Cross and Unicef.
In his own words, Steven shares the story of his journey and what he experienced along the way...
Steven's story
I'm pleased to say that we're home back on UK shores after an incredibly long yet rewarding 72 hours! In terms of executing what we set out to achieve, it honestly couldn't have gone any smoother!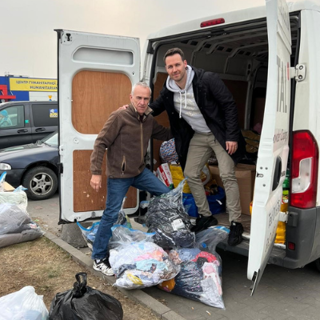 On Monday night, both my father and I were feeling anxious about the uncertainties that were ahead, both logistically and, of course, the devastation to innocent people's lives caused by the Russian invasion of Ukraine, and what we might be walking into. We had both read about people embarking on similar journeys to deliver humanitarian aid and being held up at UK customs, due to the change in exportation laws following Brexit. Small charities and individuals must complete colossal amounts of paperwork, all of which carry hefty charges and almost defeating the object of why people are so keen to get out there and help in the first place. So, with that in mind, I was worried our plan would fall flat on its face before we even managed to get out of the UK… however, I'm pleased to say after departing my house in North Hampshire at 5am on Tuesday morning, we successfully managed to board the 07:20 Euro Tunnel over to Calais on the passenger train, without a single question asked. That was the first hurdle out of the way and a big weight off my mind.
On Tuesday we managed to travel over 750 miles, skirting along the north coast of France, across Belgium, briefly entering Holland, before making our way right across Germany to the Capital City of the Saxony State, Dresden. We arrived at the hotel at approximately 8.45pm, both completely exhausted, but very satisfied on the progress we had made. After a quick bite to eat and a well-deserved beer at the hotel, we called it a night with the alarm set for 4am. Unfortunately, neither of us slept well. Our minds were both in complete overload, as our attention shifted to what we what we would being met with the next day.
We were back on the road at 4.30am as we made our way 470 miles across Poland to a city called Przemysl. As we passed Krakow on the way, the roads become noticeably quieter from your normal passenger traffic, often being overtaken by large police convoys, military vehicles, hundreds of coaches passing in both directions. Przemysl is located approximately 6 miles from the Ukrainian- Polish border and, since the invasion began, has been transformed into an international hub for volunteers, charities, media and, of course, Ukrainian refugees. Prior to leaving the UK, I had been provided with a contact who was working with the local Przemysl Government to help the city cope with the sheer volume of refugees they were processing. Mitmark is a UK-based company that offers a number of services, however the brief on this particular operation was to ensure the safety of refugees entering Poland. Mitmark is formed primarily of ex-military personnel, and I was fortunate enough to be in contact with Founder/CEO, Richard Roberts. Richard had explained to me prior to departing the UK that he was there to create a process that not only safeguards those who are most vulnerable, but to also ensure that aid was being distributed to those who need it, that they had a forward destination and that security checks were in place to ensure that refugees were not being exploited for human trafficking.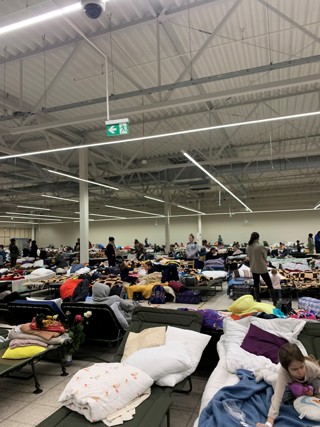 We arrived in Przemysl at approximately 1.30pm and were quickly met by Richard at his Operation HQ in the City centre. Richard jumped in the van and directed me to where we would be dropping the aid off… it was a converted Tesco supermarket that had been renamed the 'Humanitarian Aid Centre'. Upon parking the van, Richard took us inside and gave us a quick tour of the centre and the various areas within the converted store where we could drop our aid. The centre has been entirely set up and managed by volunteers and has been processing up to 25,000 refugees a day! The car park was completely full of empty coaches waiting to take people to their forward destinations and this was the kind of work Richard and his team have been helping put control and process around. What we witnessed in the store was something that will live in my mind for evermore. The sheer scale of the operation was impressive. However, seeing first-hand the devastation that has been caused to these poor people was incredibly sobering and impossible to comprehend just what they are going through. Apart from the pop-up stores that were dispensing aid(food, clothing, medicine, toiletries etc.) to those who were about to embark to their next destination, most of the store had been converted into sleeping areas. Oblivious to the reasons why they were there, the children appeared to be excited by the change of scenery, but the etched faces of their mothers told a completely different story, a story of pain and suffering that was felt by many Ukrainians.
Once we made our way back to the van, we began to unload the clothes first. Within seconds, we had tens of Ukrainian mothers and children asking if they could open the bags. There was a significant language barrier between us and the refugees, but what I did take from it was how appreciative they were, often asking for permission before taking something they needed. There was one lady in particular who was so grateful for the help. Someone from the local community had thoughtfully donated two large suitcases that we used to store all the other smaller bags and rucksacks that were donated. I opened the suitcase and showed her and her son some of the rucksacks inside. His face just completely lit up when he caught a glimpse of a certain bag. He was around the same age as my son, Oscar. Prior to leaving the UK, I said to my wife and Dad that I really wanted to give a Buzz Lightyear toy someone had kindly donated to a young boy the same age as Oscar and to be able to do this within moments of being at the centre was a really moving moment and something I will cherish for the rest of my life.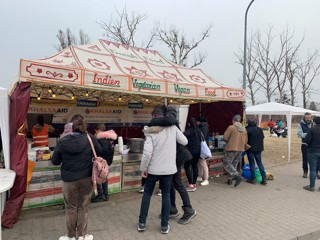 Around the perimeter of the car park were loads of pop-up tents with people from across the world volunteering their services, whether that was cooking, first aid or pet supplies. It really was amazing to see. No sooner had we begun offloading, three guys from the UK approached us having noticed the UK number plates, asking if we would like any food or drink. They had been there for three weeks cooking Indian food for the refugees, and if you've never tried it, Indian tea is something I would highly recommend. In return, we decided to donate all the liquids we had to their stall; water, fruit juices and long-lasting milk.
After offloading all the clothes and fluids, it was now time to move all of the boxes my wife and I had spent the days leading up to the trip organising into the various types of products, like baby food, nappies and toiletries. We borrowed a trolley and away we went, manoeuvring through the vast crowds of refugees to the various pop-up stores Richard had shown us within the Humanitarian Aid Centre. Any aid that wasn't immediately required within the centre was taken to the goods-in area out the back of the store, where volunteers were frantically arranging it into lorries that would then be taken across the border and into Ukraine. The camaraderie and team effort between the international volunteers and the local Polish Officials/Police was incredible and just goes to show you what we can collectively do when working for the greater good.
We spent about 2-3 hours on the ground distributing the aid and helping where we could. The van was empty, and we were completely overwhelmed, so we decided to get back on the road, feeling incredibly satisfied that our work was done, but equally numb by what we had seen and the true scale of the humanitarian crisis that lies ahead. On the way out of Przemysl, the van was noticeably quieter as we both took some time to reflect on what had been a complete whirlwind of an afternoon. We managed to drive all the way back across Poland and managed to get back into Dresden, Germany at approximately midnight, staying at the same hotel as the previous night.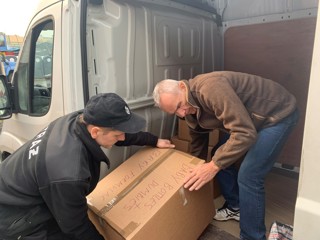 We didn't set an alarm on Thursday morning. The past 48 hours had completely taken it out of us. We were mentally exhausted. Once we got up, reset ourselves over breakfast, we were back on the road for around 11am, heading back to the UK, eventually arriving at the Euro Tunnel at 2.30am and back home for Friday morning, 4.30am. In 72 hours, we had managed to drive 2,500 miles across the other side of Europe and back, driving 14 hours a day. It was tough going, but absolutely nothing in comparison to what the proud Ukrainian people are currently going through. If I could, I'd do it again in a heartbeat!
In total, and as a community, we managed to deliver the following;
38 vacuum sealed bags of clothing that had been split by baby, children's (boys and girls), men's and women's
4 boxes of bobble hats
15 first aid bags
4 boxes of pet food
2 pet cages
2 large suitcases containing 20-30 rucksacks
4 Boxes of nappies and baby wipes
1 box of baby bottles
1 box baby formula
1 box baby food pouches & jars
1 box of baby medicine (Calpol etc.)
3 boxes of female hygiene products
1 box of deodorant
1 box of soap and shower gel
1 box of toothbrushes and toothpaste
2 boxes of mixed toiletries
1 box of face wipes
1 box of adult medicine and pain relief products
1 box medical strapping and plasters
3 boxes of adult food
2 boxes of sleeping bags
1 box of mixed shoes
1 box of PPE
3 trays of fluids
3 boxes of toys
3 bags of confectionary
15 pre-made essential bags (anti bacterial, tissues, deodorant, lip balm, sweets, paracetamol)
None of this would have been possible without the help of family and friends. Special thanks go to the following people…. My amazing wife Jen for initially coming up with the idea to help and volunteering her time to coordinate all the donations. My father, Ieuan who acted as my wingman/co-pilot and all-round companion for the entire 40+ hours of driving. Hannah Mooney, Sara Weston and Sarah Goodwin, who came to our house in the evenings to help sort through the mountains of donations we received. George Darling (of Mettal) who kindly donated the van to us, covered the insurance, as well as the European Breakdown Cover. My mother-in-law, Diana, for helping Jen whilst I was away with dog walking. My employer, The Ardonagh Group, for not only providing me with volunteering leave whilst I was away, but also for committing to financially support our fundraising efforts to a charity of our choice. And finally, of course, a huge thanks to all of you who either donated via the Just Giving page or by providing the humanitarian aid that is so desperately needed.
On a closing note, over the past couple of weeks, I've read several media outlets reporting that you should only send cash and that physical donations are not required. I can tell you first-hand that whilst cash is good, physical items are absolutely in need. All I would say is that, from first-hand experience, the most time-consuming part is the organisation of the aid, so if you are looking to make any physical donations in the future, just try to group the various items to save a volunteer on the ground having to do it for you. Poland has so far had 2,000,000 refugees cross the border into their country. They and the Ukrainian people need all the help and support they can get.
Steven
If you would like to donate to Steven's fundraising efforts, you can do so via his Just Giving page.