Donna Walker on hiking her way to her fundraising targets with match funding from ACT
Ardonagh Community Trust (ACT) boosts the fundraising efforts of colleagues from across The Ardonagh Group through our match funding scheme.
Whether our colleagues are running a marathon in fancy dress, taking part in a sponsored singathon, or walking laps of your garden for a good cause, ACT will match their fundraising total up to £500 (or equivalent local currency), so that charities can benefit from even more funds.
In 2021, colleagues across the Group raised £103,992.25 for causes close to their hearts and ACT boosted this with an additional £52,422.59, helping 90 different charities support those who need their services.
We spoke to colleague Donna Walker, Head of Member Compliance Services at Bravo Network, about the walking challenges she's taking part in and why the causes she's raising funds for matter to her.
In 2021, Donna completed two 100-km walking challenges (alongside her dog) to raise money for British Heart Foundation and Bone Cancer Research Trust, and was helped to reach her fundraising goal through match funding by ACT. This year, Donna is taking on two more charity hikes – supporting British Heart Foundation once again through a 100-km ultra-challenge walk in Yorkshire, plus Cancer Research UK by completing a 35-mile walk in Llangollen Wales on a route that visits every mountain summit in the area.
Donna's match funding story
"I'm a bit of an exercise freak (!). Each morning I get up at 5.30 as my husband leaves for work at 6, and instead of staying in bed I get moving on my cross trainer or bike before taking our dog, Diesel, on a three-mile walk – all before the day really gets going.
Before the pandemic, me and my husband, Lee, would go on hikes and long cycles most weekends, but in June 2020 he got ill with Covid and he lost his energy. Just a few months later in October, things suddenly changed all over again when he developed a cold and began struggling to breathe. Eventually he went to A&E as things weren't getting better, and he was diagnosed with severe heart failure. After ten days in hospital, we left with medication, but the strains of the pandemic meant we didn't get the support we needed to cope.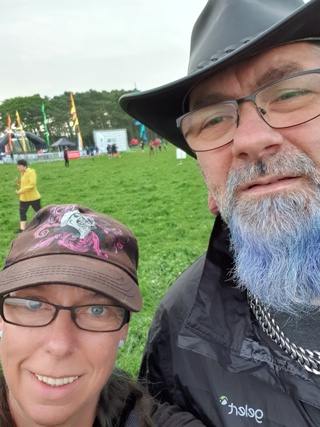 Things just weren't getting better. We couldn't get through to a cardiologist and waiting lists were long. Lee was in a lot of pain and his breathing was getting worse, so that was when we rang up the British Heart Foundation (BHF). Their nurses were amazing, giving support and guidance and with their help Lee went back to hospital – and thank goodness, as Lee was then diagnosed with clots on his lungs. He's now making a full recovery, but it just wouldn't have happened without the fantastic BHF nurses.
I love hiking and have gone on all sorts of walks around the country with Lee and with friends, so charity walks are something I have been involved in before. Because of the experience with Lee, I wanted to give something back to BHF, so I signed up to a 100-km walk in Northumberland. Lee often comes to support me, and he brings Diesel too. For this walk, through an old colleague at Bravo, I was put in touch with their friend Anne, who apparently also loved hikes and dogs. We didn't know each other at all before our hike, but by the end of it we did – even if by that point we couldn't talk much anymore – or feel our feet! Some people run it in one day, I could never do that! I'm quite happy plodding on, and it was very nice to plod along together.
Through my own fundraising I made just over £600 for BHF, but with the match funding from ACT the total reached £1,000. It was an incredible feeling, as I never thought I'd be able to raise that much – and it was so lovely to get a message from BHF thanking me for the donation afterwards.
Like many people, I've also been personally affected by cancer – losing loved ones and friends, and watching others go through life saving operations and treatments. During the pandemic, I'd joined a Facebook Group called Team Bones, made of dogs – and their owners – from all over the country. We decided that we'd all try to walk 100 km over November with our dogs, so I decided to do it for Bone Cancer Research as a close friend has recently been diagnosed with cancer in the knee joint.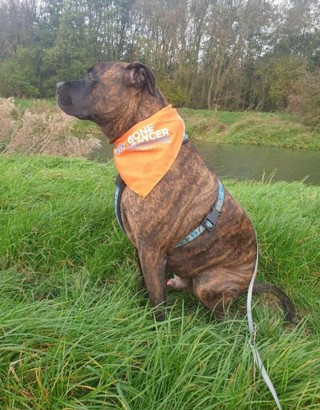 We all shared photos of our walks, and our dogs on the group along the way to keep spirits high. I thought with my daily three-mile walk with Diesel already as part of my routine, it'd be plain sailing, but I got a really bad cold at the end of the month, so it was a bit of a push to the finish line! But we looked great together – me in my Bone Cancer Research orange t-shirt, and Diesel in his matching orange bandana. I raised just under £200 myself, which once again ACT match funded, which meant I could donate almost £500 to Bone Cancer Research. As a group, Team Bones raised £281,587 – it was incredible to be part of!
This year, I'm planning to take part in two more walking challenges. Because BHF is such an important cause to me and my husband, I'm doing another two-day, 100-km walk to raise money for them – this time in the Yorkshire Dales. I've just started fundraising, and I'm hoping that with match funding I'll once again be able to reach that golden £1,000 total. I'm also raising money again for cancer– this time Cancer Research UK – in memory of my mum who died 21 years ago, by doing a 35-mile walk in Wales. It might be a shorter walk, but going up and down lots of hills in a single day is a lot of hard work on the feet.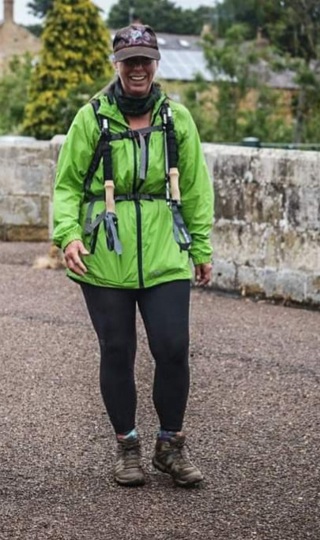 I've just bought a medal hanger to go up in my house, so I can put my walking medals display, and on it I've got a quote, ''Life is what you make it, and I've made mine great" – it might be a bit cheesy, but it's also really true, so for anyone who's thinking about fundraising, I say just do it! It doesn't matter if it's 10 miles or 100, or if you raise £50 or £500 – charities need our support more than ever, and they will be so grateful whatever you do and whatever you give. The match funding means you can instantly double your efforts – I wouldn't have reached the £1000 total last year without the contribution from ACT.
I'm so grateful that Lee and I can getting back to enjoying the things we love. We've been on out on our motorbikes, and Lee now has an electric bike, so we can still go cycling together – and he'll be bringing our campervan to come and support me in Wales. BHF have been a massive part of our lives the past year, and I'm so glad I'm able to give back to them."
Match funding from ACT
ACT's match funding initiative is available to all Ardonagh employees worldwide. ACT will match fund almost any type of fundraising event up to £500 per person, per year (or equivalent local currency). So if you're part of the global Ardonagh community and thinking of taking part in an event for a charity close to your heart, take the opportunity to increase your fundraising efforts!