£40,000 to be won by young people with ideas for community projects
ACT's Bright Future Prize is searching the world for young people aged 13-19 with bright ideas for community projects. If you know teenagers with aspirations to make the world around them better, brighter and stronger, make sure they know about this opportunity.
There's just three weeks left for teens to apply, so get inspired by our previous winners as they share how the Bright Future Prize has empowered them to lead change and why they encourage other teens to submit their bright ideas.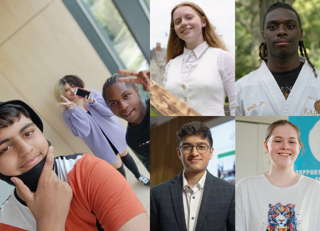 ACT's Bright Future Prize 2023
The Bright Future Prize is an annual competition led by ACT, The Ardonagh Group's independent charity, and empowers teens with dreams to make a difference through a dedicated £40,000 fund.
Open to young people aged 13–19, through the prize we support the next generation of community leaders.  Already, we've invested £60,000 in our previous winners and in 2023 we have a £40,000 prize fund waiting to be won across four categories – each connected to a different way young people can make a difference.
Feel inspired! Hear from our previous Bright Future winners
Hear from our previous Bright Future Prize winners from 2021 and 2022 – Kaydi, Sara, Jeffrey, Muhammad and teen-trio, Dawn to the Light.
Learn more about our previous winners of the Bright Future page of the ACT website.
How young people can apply
The Bright Future Prize is open to young people aged 13–19, located anywhere across the world where The Ardonagh Group has a presence, including the UK, Ireland, Australia, Portugal, Brazil, Netherlands, and Greece.
To apply, candidates – individually, or as a group – need to complete the application form on the Bright Future page on the ACT website.
They will need to:
Tell us about their bright idea
Explain how they will use the funding towards their project
Share why they are so passionate about it
Explain how their idea will have a positive impact now and into the future.
Applications close on Friday 3 November.
 All applications will be reviewed by ACT's board of Trustees. A shortlist of finalists will be selected in December 2023 and winners chosen in March 2024.
Our prize categories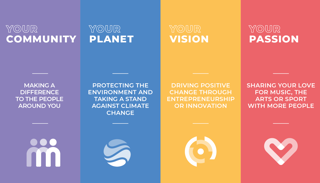 Share this opportunity in your networks
We hope we can count on your support to make this year's prize bigger than ever!
Help to spread this opportunity far and wide – perhaps reaching out to schools, charities or youth organisations you are connected to or simply sharing information about Bright Future Prize on social media – you can find us @ArdonaghCT on Facebook or Instagram and The Ardonagh Group on LinkedIn. Simply share one of the posts we've already put up to spread the word!
Find out more about the prize by visiting the Bright Future Prize page of the ACT website – or get in touch with the ACT team using info@ardonaghtrust.org