Grants in action: Using technology to empower communities in Africa and beyond through financial inclusion
Since its inception, ACT has supported over 160 causes nominated by colleagues from across the Group with more than £650,000 of funding through the ACT Community Grants programme – supporting a range of charities tackling issues from mental health to cancer care and inclusive sport.
We speak to the co-founders of Rural Inclusion CIC , Jack Farren and Joseph Lukwago, – the recipients of one of our most recent ACT grants.
Rural Inclusion is a social enterprise on a mission to drive financial inclusion in rural communities across the world through its innovative digital education programme. Ultimately, the charity aims to empower local people to create sustainable economic growth and to increase resilience against climate change.
Together, Jack and Joseph established Rural Inclusion through a shared passion for education and to utilise their respective skills in insurance and technology to make a difference to underserved agricultural communities, initially in sub-Saharan Africa and now expanding into Latin America and Asia.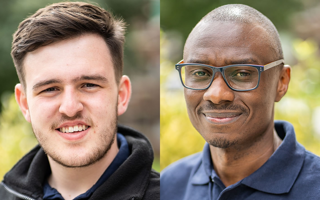 What inspired you to found Rural Inclusion?
Jack
I began my career in the insurance sector, working in European and Latin America markets, ranging from corporate intermediaries to an Insurtech association.
Whilst in Mexico, I researched how the sharing of information through blockchain technology can advance micro-insurance – insurance at low premiums – which is particularly prevalent in developing countries.
Over this time, I became increasingly interested in financial and insurance inclusion in underprivileged areas and how financial products can play a role in mitigating the risk of climate change and economic standing in these communities.
It was this research into the challenge of accessing financial tools and information in developing countries which was the starting point for the idea which led to Rural Inclusion. Then after meeting Joseph through a mutual contact in London – it all led from there.
Joseph
I was born in a rural community in Uganda, and my family's background is in agriculture.
To attain quality education, I was able to study in good schools in the country, including those in the capital, Kampala, and which led to many opportunities. To start with, I wanted to be a doctor, but I fell into ICT and software engineering – and I'm so glad I did, as it opened up new doors.
I started lecturing at the University where I had studied, where I met all kinds of people and had the chance to lead training classes. It was through classes that I realised the skills gap. I was leading training sessions for people in corporate roles, but many didn't have basic digital skills. They'd have computers in their offices, but never use them. If these people didn't have the knowledge to use technology, then how could those in the communities I came from?
From here, I worked in the Government State House, leading the Vice President's ICT Department. In this role I travelled to different parts of Uganda – East, West, South, and North. It gave me a real insight into the challenges people were experiencing across the country and helped me to understand people in all types of communities better.
Through my role, I got an opportunity to study abroad, which is how I came to London and met Jack in 2019. We connected through our motivation to help people in underserved communities, and from there, Rural Inclusion was born.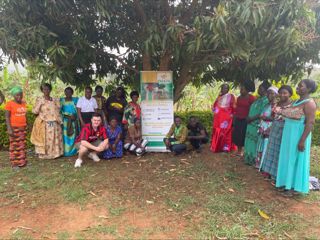 Tell us about Rural Inclusion's journey. How did you take it from your idea in 2019 to where it is today?
Jack
Joe and I both had different insights into rural communities – Latin America and in Africa – which gave us a combined experience to understand the people we wanted to help. We wanted to address the knowledge gap in three key areas – finance, digital and climate change – to better enable people to make informed decisions.
I actually went and lived in Joe's home region for three months, where I did some research with an NGO. We worked with 8,000 farmers in the area – almost 80% of whom were women – to understand how people access information, testing their knowledge of finance, and looking at how they access information and what the devices they use to do so.
The big question which struck me was how do you bridge a knowledge gap in communities which are so disconnected?
In the research, we tried a number of different routes to deliver information – national radio, community agents, written manuals and even a comic book – but they just weren't working.
It was when we tried animated videos in the local language that we saw engagement pick up.  These simple videos were accessible to people even with low literacy levels – tackling complex financial subjects in a simplistic manner.
We had a tool which worked, but we needed a delivery mechanism to get it to these disconnected communities effectively. We examined the local infrastructure and saw that NGOs and Agribusinesses were serving communities through networks of local agents.
We decided we could utilise the existing relationships between community agents and local people to deliver our education – they would help up reach the last mile. Not only that, agents are more likely to have access to smartphones or tablets to deliver our training than people living in rural communities.
From there, we developed an offline app called Ostrii, on which we housed our animation content – all made to a curriculum accessible to people with low literacy levels. Combined, the app and the utilization of the community agents meant we had a digital tool which could be delivered face to face. Digital learning with a human touch.
Our agents receive training to help them build confidence. We don't need them to be the experts in the topics we cover – climate, finance or digital – because we provide a tool which speaks for itself. However, we rely on the agents we work with to establish trust between the local people and our education tools, so that they engage with them. I think of our agents a bit like a walking Netflix!
Since then, we've carried out a number of pilot programmes – working with NGOs, coffee companies, and even a research project with the Royal Academy of Engineering through the UN Capital development fund Uganda. It's grown and grown!
Why is technology so valuable in addressing issues faced by the rural communities you support, who themselves may have very low digital skills or even no access to technology?
Joseph
The transformative power of technology to address big challenges in underserved communities should not be underestimated. It has and can make an incredible difference in supporting people to access information. However, the complexity of the technology needed to do so can often be overestimated.
In the communities we're supporting, we are dealing with people who are not educated and lack digital skills. When we have lives where we use technology every day – from the moment we wake and check our phones – we just can't understand what low digital and educational literacy is like.
Digital transformation is complex. In the corporate world, over 70% of digital transformation fail. If you are implementing any technology, you need to think outside the box to mitigate the challenges that lead to failure and avoid wasting resources.
Digital innovation doesn't need to be shiny – but it does need to be simple, implementable and to sustain. Transformation doesn't necessarily need the most advanced devices or complicated software and technology.
For our education programmes to be effective, we needed our educational content and our digital platform to be Simple, Modifiable, Actionable, Relevant and Trusted. Simplicity and innovation were both critical to our app, Ostrii, and the feedback from our animated videos was vital.
In many communities, technology is treated with suspicion. People can feel threatened by something new and even think that you are planning to use technology to take their jobs away. Again, this is why our combination of digital education alongside a personal delivery route through our community agents is so important. Having the right technology is critical, but how its delivered is equally important to its ultimate success.
Why is financial literacy important? How does it make a difference to people's lives in rural communities?
Jack
In the communities we work, most people have had no financial education and even view it with distrust. They might not have a bank account or understand documentation – in some cases even using their fingerprints to sign papers.
For instance, many of the people we work with don't have the collateral to take a loan, so they use local money lenders. Without proper understanding of the risks being taken, many people can be vulnerable to unethical practiced, such as fraud.
Microinsurance is another aspect growing right now, but for farmers on the ground, this is very new. Insurance is not common in rural areas, and typically the only insurance they may have come across is something like a family member with car insurance. It's not unusual for people to have a very negative view of insurance.
Financial risk and insurance are two key areas we provide learning. We ensure the animations we create centre on relatable topics, for example, crop insurance. Farmers will be fully aware of crop failure. Through the characters and information in our animations, we help them to understand that insurance is something which could protect them if the rains don't come or are too heavy – giving them the confidence to farm. With a relevant character providing information in the local language, our animations provide role models through which people can be supported to build their financial knowledge.
What are some of the challenges you have overcome?
Joseph
In the communities we empower, most people earn less than $1 a day. They have to struggle to look after their families and themselves every single day.
People are thinking about basic requirements – how they will cope today, tomorrow, this week. Education and knowledge is transformative, and information is power, but they have more to think about.
To make our education impactful, we need to take their mind away from thinking about the next meal for their family. We need to deliver our education in a way and in a format where they are engaged and focused so they can really learn and benefit.
This is why using simple animations has been so successful. The concentration you see on people's faces when they are watching a character speaking their own language, on a smartphone is unbelievable! The training might be thirty minutes or one hour, but in that time they are really concentrating and really learning.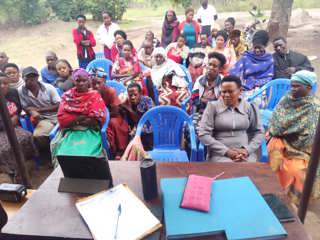 How has the funding from ACT been used to make a difference?
Jack
The grant from ACT enabled us to carry out one of our final pilot programmes in Uganda.
We've worked with a local NGO and their community agents to reach 50 village saving groups in central Uganda. Each of these village saving groups typically has about 25 members, most of which are women and young people. Together, they save money in their circle, which they can then use to provide small loans to each other. Each group has been given three educational sessions, delivered by the community agents on the Ostrii app – covering record keeping for agricultural activities and budgeting, saving and responsible loans, and investing and insurance.
Through the project we'll reach about 1,000 people. We're in the final stages of the project at the moment and have already had strong feedback – and will be taking the lessons and learnings away to guide our model going forward as we scale up.
Finally, what's next for Rural Inclusion?
Jack
The next phase of Rural Inclusion is all about scale.
We have run several pilot projects so far in Uganda, Malawi, Kenya and El Salvador, which have helped inform our education content, delivery model and tools. We're now looking to work on projects that last years rather than months so we can really track and understand the behavioural change our education is having to change people lives.
We're launching OSTRII2028 strategy in July, where we'll be outlining how we plan to expand to 20 countries – nine in Africa, nine in Latin America, and two in Asia – where we aim to establish a network of 25,000 trainers – reaching two million famers.
In all these regions we'll be using our app, Ostrii, to deliver our training content. We're currently integrating our content into more local languages, so that wherever in the world our training is being delivered – it is accessible to local people.
Our distribution model will still tap into the networks of NGO's and agricultural businesses. For local, grassroot NGOs we will be providing the Ostri platform for free and connecting them with a local Rural Inclusion ambassador to empower their community agents to deliver the training to communities.
Sustainability is of course key, so we'll also be working with international NGOs and corporations to provide paid subscriptions to our tools.  We'll also be launching the Ostri 2028 club, which will provide a way for individuals to support our work.
Although our initial focus has been financial literacy, we aim to expand our training topics into climate change awareness and adaptation, as this is a huge issue for rural communities in countries we work – from Brazil to East Africa.
Learn more about Rural Inclusion, its projects and impact by visiting the website https://www.ruralinclusion.org/