Hear from our Bright Future Prize finalists! Meet Muhammad and Eloise
It's the third week of our Finalists Showcase, which gives you the chance to hear more from all eight of this year's Ardonagh Community Trust Bright Future Prize finalists. We're sharing videos from each of our finalists so you can get to know more about them, their bright idea for a community project and why they're passionate about making a difference!
The ACT Bright Future Prize empowers young people aged 13-19 based to become the next generation of community leaders.
We received applications from teenagers around the world sharing ideas that were equally diverse, ranging from language apps to first aid and workshops to support special education needs.
At the end of June, our ACT Trustees selected eight finalists, who are now in with a chance of winning a share of the £40,000 prize fund to turn their ideas for community projects into a reality.
This week we share videos from Muhammad from Blackburn in Northern England and Eloise from Yorkshire in Northeast England.
Upcycling school uniform to give back
Muhammad Karbhari, Blackburn, UK
Uniformity started out as a student-led social enterprise at Tauheedul Islam Boys' School in Blackburn that provides an innovative solution to accessing affordable uniform and helping the planet and local community at the same time. Uniformity provides a service to upcycle school uniform by enabling parents to donate and purchase used clothing via an innovative e-commerce platform – but here's the difference, the profits go straight into the school's food bank. As a result, not only does it provide a way to reuse uniform and tackle the environmental impact of clothing it also helps local people access vital supplies.
Muhammad coordinates all the dry cleaning and organising stock to get it to parents. Now, with the enterprise is growing, and the team hope to expand to more schools in the area, so they are planning to purchase their own dry-cleaning machine to reduce cost and to upgrade their online platform to make it simpler to donate and purchase clothing.
Establishing a community's first ever Pride celebration
Eloise Evans, East Yorkshire, UK
Eloise is a proud member of the LGBTQ+ community. Despite having a supportive and accepting family, she's experienced her own struggles identifying as queer and so her idea to help other teens in and around Goole in rural East Yorkshire have a community they can be part of.
Eloise has already founded an LGBTQ+ hub in Goole, and now she wants to grow it by creating a programme of activities throughout the year and secure a regular venue. Being almost an hour from the larger cities of Hull and Leeds, Eloise has found it difficult to take part in LGBTQ+ events and so wants to go a step further and establish Goole's first ever annual Pride event, so that everyone locally has the opportunity to involved.
Discover all our finalists!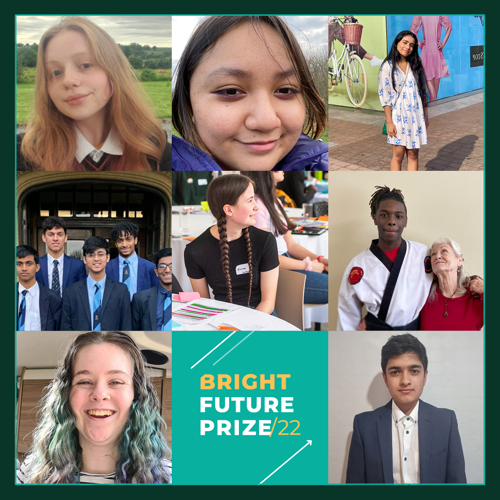 So far we've shared videos from six of our eight teen teen finalists. Discover all our finalists, catch up on the videos, and read about their bright ideas for community projects on the Bright Future Prize 2022 page on the ACT website.
Stay up to date with all things ACT
We love sharing photos and stories from colleagues and causes we have supported.  Follow ACT on our socials @ArdonaghCT. You can choose from Instagram, Twitter or Facebook – or all three!