How ACT has made an impact in 2023 so far
Ardonagh is a community of c. 10,000 people around the world, but we are united, not just in our determination to serve our customers, but in spirit too – always striving to do good. ACT, Ardonagh's independent charity, is there for all our colleagues, enabling them to join in our mission to build better, brighter and stronger futures for all.
In 2022, ACT, together with our Ardonagh people, gave over £550,000 to ~400 different charities!
£157,000 in ACT Community Grants
£162,000 raised by colleagues, including Match funding from ACT
£238,000 raised over Give Back, including £100,000 from ACT to boost totals raised by teams and offices across the Group
Just like Ardonagh, we never stop – and we're aiming to give back bigger than ever in 2023!
Having crossed the halfway mark of the year, it felt like the perfect time to see how ACT – and our colleagues – are making impact so far over 2023. So, let's take a look at our top impact stats…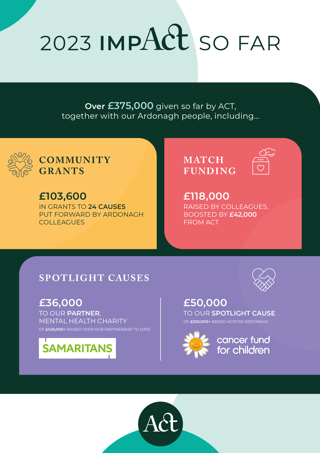 A total of £375,000 raised by ACT, together with our Ardonagh people,
£103,600 in ACT Community grants to 24 causes put forward by Ardonagh colleagues around the world
£118,000 raised by colleagues through their own fundraising events, and boosted by a further £42,000 through ACT match funding
£36,000 donated to our charity partner, mental health causes, Samaritans - bringing our total raised through our partnership to date to £140,000+
£50,000 donated to our spotlight cause, Cancer Fund for Children - contributing to the £250,000+ raised by the Ardonagh community in support of ACT Trustee, Rory Best, Miles 2 Mayo campaign.
Safe to say, we're well on track to provide more funding than ever this year to the causes close to the hearts of Ardonagh people across the world.

How our Ardonagh colleagues can use ACT to give back
ACT's core funding programmes, including Community grants and Match funding, are available to all c.10,000 of our Ardonagh employees, no matter where they are in the world.
Through these funding streams, ACT enables our people to give back bigger and better to the causes that matter most to them.
Ardonagh colleagues can apply by visiting the ACT section on Engage, Ardonagh's internal engagement platform.
ACT's Bright Future Prize set to return
ACT will always be there for the causes close to our colleagues, but on top of this, ACT also supports the next generation of community leaders.
Each year, the Bright Future Prize provides the chance for young people around the world to turn their ideas for community projects into a reality, through a £40,000 prize fund.
Bright Future Prize is set to launch in September, so keep your eyes peeled and, in the meantime, discover more about the prize and the stories of our amazing winners so far on the Bright Future Prize page.
Follow ACT on Instagram
We love sharing the photos and stories of colleagues' charitable endeavours. Follow ACT on Instagram or search @ardonaghCT.