Meet our final two Bright Future Finalists, Ella and Akanksha
It's the last week of our Finalists Showcase, which gives you the chance to hear more from all eight of this year's Ardonagh Community Trust Bright Future Prize finalists. We're sharing videos so you can get to know more about them, their bright idea for a community project and why they're passionate about leading positive change!
The ACT Bright Future Prize empowers young people aged 13-19 based to become the next generation of community leaders.
We received applications from teenagers around the world sharing ideas that were equally diverse, ranging from language apps to first aid and workshops to support special education needs.
Our eight finalists are in with a chance of winning a share of the £40,000 prize fund to turn their ideas for community projects into a reality.
In this final instalment, we share videos from Akanksha in Georgia, USA, and Ella in London.


Teaching art to connect young and old
Akanksha Manna, Georgia, USA
Akanksha first got into volunteering at her local care home after seeing her grandfather in India experience the loneliness he experienced during the pandemic when he had to isolate whilst receiving chemotherapy. She was able to be with him towards the end of his life, however she knew this wasn't the same for many other older people.
Since then, she has been heavily involved in supporting elderly people, finding not just a group of people who could benefit from support but a whole community. Akanksha plans to establish a not-for-profit, called Sketching with Seniors, that will deliver regular art classes to several nearby hospices and senior citizens homes local to her in Georgia. She will create a network of likeminded young volunteers to lead the sessions, to create meaningful connections across the generations, share creative skills and combat isolation.
Creating cross-capital collaborative Eco hubs
Ella Soriano, London UK
The environment is experiencing major challenges, but Ella is determined to be a leading voice to promote positive change to protect the world for future generations. Ella has been a committed volunteer at Global Generation, an educational charity that works with schools, young people, and businesses across London to create environmentally responsible communities and imaginative green spaces in the city.
Ella plans to use her own passion and the expertise of Global Generation to form an Eco Council, formed of representatives from schools in deprived areas of London. Together the Eco Council will spearhead activities and projects, as well as support each other to establish local Eco Groups in their schools to facilitate grass roots initiatives. With family in the Philippines, Ella has seen the direct impact of climate change and how it will take collaborative action to enable global change.
Discover all our finalists!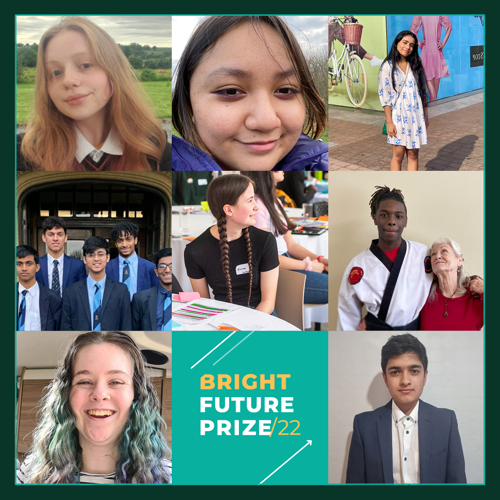 We've now shared videos from all eight of our teen finalists. Discover them all, catch up on the videos, and read about their bright ideas for community projects on the ACT website.
Stay up to date with all things ACT
We love sharing photos and stories from colleagues and causes we have supported.  Follow ACT on our socials @ArdonaghCT. You can choose from Instagram, Twitter or Facebook – or all three!