Meet the winners of the 2022 Bright Future Prize
We're ready to reveal the winners of the Ardonagh Community Trust Bright Future Prize 2022! Find out about the teens who will share the £40,000 prize fund to invest in their bright ideas for community projects – turning them into a reality.
The ACT Bright Future Prize empowers young people aged 13-19 based anywhere around the world where The Ardonagh Group has a presence, to become the next generation of community leaders.
This year the prize money was doubled to £40,000 over four categories, each connected to a different way young people can make a difference. We received applications from teenagers around the world – including Australia, Ireland, South Africa, the UK and the USA – with ideas equally diverse, ranging from apps to connect young people with cutting edge researchers to workshops to help students with special educational needs.
The Bright Future Prize was inspired by Freddie Williams, the son of Ardonagh colleague David and his wife Sarah. In 2015, Freddie, aged seven, was diagnosed with a rare form of bone cancer. When Freddie died four years later, the contents of his money box were donated to ACT with a simple message: 'To help pay for special treats for the next poorly child'. This simple gesture led to the idea of the Bright Future Prize, which is all about enabling young people to make a positive impact – and as part of Freddie's continued legacy, David and Sarah help the ACT Trustees to select our Bright Future Prize winners.
Congratulations to our Bright Future Prize winners!
It was an incredibly tough decision, but our ACT Trustees selected four fantastic young people as winners of this year's Bright Future Prize, who will share the £40,000 total prize fund – each receiving £10,000 to invest in their community project.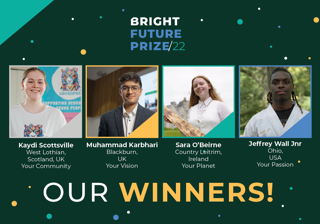 The stories behind our winners and their bright ideas
Read all about our winners and their projects below...

Supporting neurodiverse teens to gain friends and confidence
Kaydi Scottsville, West Lothian Scotland
The needs of people living with neurodiversity are increasingly being recognised, but there's still so much more that can be done to support people that identify as neurodiverse, which includes a whole range of conditions from autism to dyslexia and Tourette's. Kaydi is using her own experience of autism and the impact of having to spend time out of school when she wasn't able to get the support she needed, to help other young people and their families have a different journey.
When Kaydi initially left school at 14, it was incredibly tough, and she felt very isolated. However, she decided to use her experience to create change, which is when she set up her non-profit, Diversified. What started out as a platform to sell affordable sensory toys has turned into a fully-fledge charity that has online and face-to-face programmes to help teenagers and families to access support, and most recently a day service to help teens who aren't able to attend school. Now she's on track to establish a physical home for Diversified in the town of Livingston, so that its services can be accessed by even more young people and their families.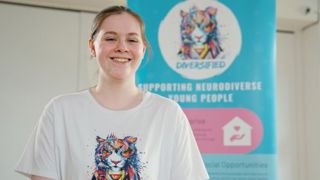 I'm just so super excited for all the young people that Diversified supports! Winning the Bright Future Prize is going to help us to have our own building that can be their safe place where they can be themselves and have opportunities like everyone else! With the right support, neurodivergent young people can achieve really incredible things and I hope that Diversified will enable them to do that! "Well done to everyone who took part in the Bright Future Prize, they are all awesome! Young people have so much to give and I'm really happy that the Bright Future Prize exists to be able to show that!"
Kaydi Scottsville

Upcycling school uniform to give back
Muhammad Karbhari, Blackburn, UK
Uniformity started out as a student-led social enterprise at Tauheedul Islam Boys' School in Blackburn, that helps parents and carers access affordable school uniforms whilst as the same time helping the planet and local community. Uniformity upcycles school uniforms, enabling parents to donate and purchase used clothing via an innovative e-commerce platform – but here's the difference, the profits go straight into funding the school's food bank. As a result, not only does it provide a way to reuse uniform and tackle the environmental impact of clothing it also helps local people access vital supplies.
Muhammad coordinates all the dry cleaning and organising stock to get it to parents. Now, with the enterprise growing, the team have set their sights on expanding to more schools in the area, so they are planning to purchase their own dry-cleaning machine to reduce costs and upgrade their online platform to make it simpler to donate and purchase clothing.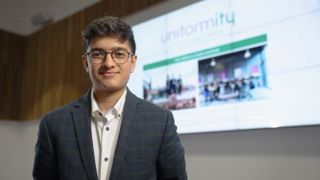 Creating innovative wooden wind turbines
Sara O'Beirne, Co. Leitrim Ireland

Sara's bright idea started as a desire to find a more environmentally friendly way to generate wind power. Traditional fibre glass wind turbine blades are expensive and can't be recycled – in fact, a massive 43 million tons of fibre glass will enter landfill by 2050. To tackle this, Sara has designed an eco-turbine blade made from wood, which she's been testing and refining for over a year.
Sara's design is ready to move from the 3-D modelling software to the machine, and she plans to purchase a computerised manufacturing machine to begin producing her blades to create self-build kits. Initially Sara will sell her blades locally, but ultimately, she wants to take them across the world, particularly in Africa where affordable, renewable and reliable energy is so important to establish.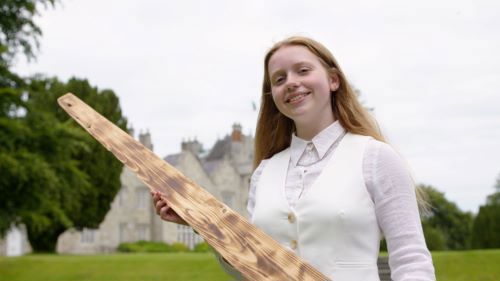 When I found out I was a winner, I couldn't believe it at first. I was absolutely blown away. It has been so helpful to have the love and support from my family, friends and my school, as well as the Ardonagh Community Trust. This project would simply not happen otherwise. As a good friend of mine once said, "If you want to go fast, go on your own. If you want to go far, go as a team." "I honestly thought my wind turbine project would never get off the ground, but this incredible prize has given my ideas wings. I cannot wait to continue with my wind turbine project. I really want to thank the Ardonagh Community Trust for seeing the potential in my project.
Sara O'Beirne

Helping 'Ninja Nanas' combat loneliness
Jeffrey Wall Jnr, Ohio USA
Jeffrey earned his black belt aged just 13, and in the four years since has used his skills to set up his own non-profit organisation 'Golden Age Karate', teaching martial arts to senior citizens (aka his 'Ninja Nanas') in local nursing homes. Having seen his own grandparents experience loneliness, he wanted to make sure older people living away from their family had something to look forward to. Whether 70 or 101, Jeffrey believes his students have so much to learn and enjoy whatever their age!
Jeffrey's idea is to fuse this work with his other major passion – film. He wants to use his unique position to create a documentary that showcases the important stories behind his Ninja Nanas to highlight their life experiences and their value to the community. Jeffrey previously appeared in a film that led to him setting up several new chapters in more nursing homes. Through this documentary he will go a step further and to inspire other people to give back to older people who are local to them – whether that be martial arts or something else entirely.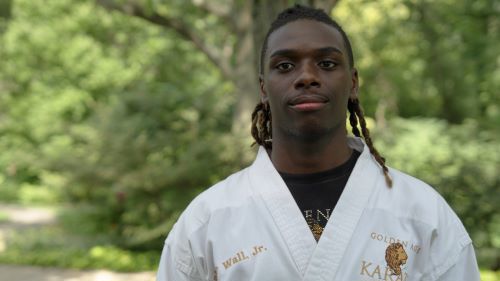 I am so honoured to represent the Ardonagh Community Trust as a Bright Future Prize Winner. I am also extremely proud that I will be able to help seniors share their stories through my short film and encouraging others by recounting their most valuable memories. Their Golden Age. Media is the quickest way to spread a message to a large audience and I will use this prize to share a message of courage, hope and resilience.
Jeffrey Wall Jnr

Establishing a community's first ever Pride celebration
Eloise Evans, East Yorkshire UK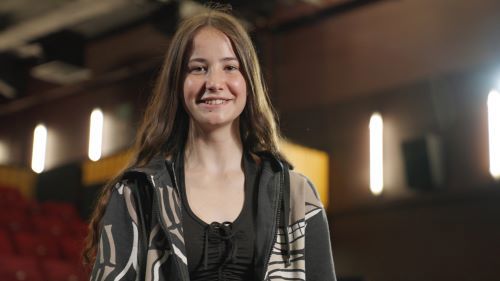 Eloise is the recipient of our Bright Future Encouragement Award, in commendation of her brilliant idea.
Eloise is a proud member of the LGBTQ+ community. Despite having a supportive and accepting family, she's experienced her own struggles identifying as queer and so her idea to help other teens in and around Goole in rural East Yorkshire have a community they can be part of.
Eloise has already founded an LGBTQ+ hub, Goole Pride, and now she wants to grow it by creating a programme of activities throughout the year and secure a regular venue. Being almost an hour from the larger cities of Hull and Leeds, Eloise has found it difficult to take part in LGBTQ+ events and so wants to go a step further and establish Goole's first ever annual Pride event, so that everyone locally has the opportunity to involved.
We can't wait to share how our winners use the prize funding to further their ideas over the months ahead.
We'll be back… looking ahead to Bright Future Prize 2023!
Been inspired by our fantastic finalists? The ACT Bright Future Prize will be back in 2023, launching in October.
In the meantime, visit the ACT website to find out more about all our brilliant finalists from this year, and rediscover our 2021 winners, teen-trio Dawn to the Light, used their shared passion to develop a concept for a video game to help young people just like them care for their mental health.
Stay up to date with all things ACT
We love sharing photos and stories from colleagues and causes we have supported.  Follow ACT on our socials @ArdonaghCT. You can choose from Instagram, Twitter or Facebook – or all three!
If you have any questions, get in touch with the ACT team by emailing info@ardonaghtrust.org.