Our finalist showcase begins! Meet Jeffrey and Sara
We're ready to kick off our Finalists Showcase for this year's Ardonagh Community Trust Bright Future Prize. Watch videos from each of our teens to get to know more about them and their brilliant ideas for community projects.
The ACT Bright Future Prize empowers young people aged 13-19 based to become the next generation of community leaders.
In our second year of running the prize, we received applications from teenagers around the world and sharing ideas that were equally diverse, ranging from language apps to first aid and workshops to support special education needs – to name just a few!
At the end of June, our ACT Trustees selected eight finalists, who are now in with a chance of winning a share of the £40,000 prize fund to turn their ideas for community projects into a reality.
Over the next month, through our Finalist Showcase, we're sharing videos from each of our ACT Bright Future Prize 2022 finalists! First up is Jeffrey from Ohio, USA who wants to create a documentary film about his inspiring 'Ninja Nanas' and Sara from Co. Leitrim in, Ireland who has an amazing design for wooden wind turbines.
Helping 'Ninja Nanas' combat loneliness
Jeffrey Wall Jnr, Ohio, USA
Jeffrey Wall Jnr from Ohio, USA, earned his black belt aged just 13, and in the four years since has used his skills to set up his own non-profit organisation 'Golden Age Karate', teaching martial arts to senior citizens (aka his 'ninja nannas') in local nursing homes. Having seen his own grandparents experience loneliness, he wanted to make sure older people living away from their family had something to look forward to. Whether 70 or 101, Jeffrey believes his students have so much to learn and enjoy whatever their age!
Jeffrey's idea is to fuse this work with his other major passion – film. He wants to use his unique position to create a documentary that showcases the important stories behind his ninja nannas to highlight their life experiences and their value to the community. Jeffrey previously appeared in a film that led to him setting up several new chapters in more nursing homes. Through this documentary he hopes to go a step further and to inspire other people to give back to older people who are local to them – whether that be martial arts or something else entirely.
Creating innovative wooden wind turbines
Sara O'Beirne, Co. Leitrim, Ireland
Sara's bright idea started as a desire to find a more environmentally friendly way to generate wind power. Traditional fibre glass wind turbine blades are expensive and can't be recycled – and a massive 43 million tons of fibre glass will enter landfill by 2050. To tackle this, Sara has designed an eco-version made from wood, which she's been testing and refining for over a year.
Sara's design is ready to move from the 3-D modelling software to the machine, and she hopes to purchase a computerised manufacturing machine to begin producing her blades. Initially Sara will sell her blades locally, but ultimately, she wants to take them across the world, particularly in Africa where affordable, renewable energy is so important to establish.
Discover all our finalists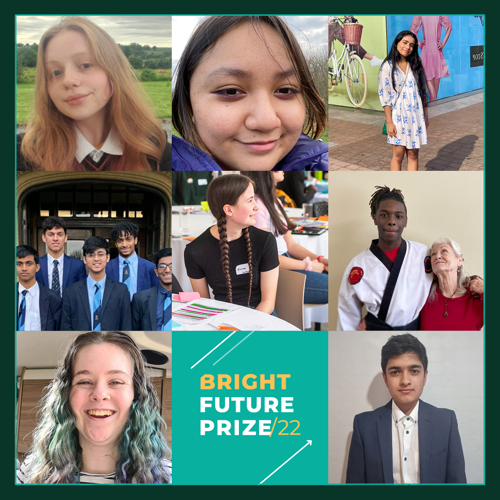 Over the next month, we're hearing even from all eight of our teen finalists. Through our Finalist Showcase videos, they share what inspired their idea and why they're passionate about it.
If you can't wait, discover them all and read about their bright ideas for community projects on the ACT website.
Stay up to date with all things ACT
We love sharing photos and stories from colleagues and causes we have supported.  Follow ACT on our socials @ArdonaghCT. You can choose from Instagram, Twitter or Facebook – or all three!