Our finalist showcase continues! Get to know Sci Squad and Kaydi
We're in the second week of our Finalists Showcase for this year's Ardonagh Community Trust Bright Future Prize. Over the next month, we're sharing videos from each of our finalists so you can get to know more about them, their bright idea for a community project and why they're passionate about making a difference!
The ACT Bright Future Prize empowers young people aged 13-19 based to become the next generation of community leaders.
In our second year of running the prize, we received applications from teenagers around the world and sharing ideas that were equally diverse!
At the end of June, our ACT Trustees selected eight finalists, who are now in with a chance of winning a share of the £40,000 prize fund to turn their ideas for community projects into a reality.
It's time to get your popcorn ready once again, as this week we hear from team of five, Sci Squad, from London and Kaydi from West Lothian, Scotland.
Inspiring the scientists of tomorrow through robotics
Sci Squad, London, UK
Sci Squad was created by five aspiring STEM (science, technology, engineering, maths) entrepreneurs – Abdur-Raheem, Anubhav, Utkarsh, Arya, and Yashaswar. Together, they have been sharing their passion with primary-aged children aged 9-11 years old in their local area by providing an opportunity to get involved with their community-led robotics programme.
STEM is so much more than equations and test tubes, it's about problem solving, teamwork, and innovation. Through their six-week course, they help children get hands-on to design, build, and code a robot and then continue the relationship with the school through their 'ambassador' programme where they return each half-term to continue teaching skills. Having already piloted their idea in one primary school (and been invited back!) they're hoping to expand to nine further schools in London so that even more young children can benefit.
Supporting neurodiverse teens to gain friends and confidence
Kaydi Scottsville, West Lothian, Scotland, UK
Neurodiversity is increasingly being recognised, but there's still so much more that can be done to support people that identify as neurodiverse, which includes a whole range of conditions from autism to dyslexia and Tourette's. Kaydi is using her own experience of autism and the impact of having to spend time out of school when she wasn't able to get the support she needed, to help other young people and their families have a different journey.
When Kaydi initially left school at 14, it was incredibly tough, and she felt very isolated. However, she decided to create change, which is when she set up her non-profit, Diversified. What started out as a platform to sell affordable sensory toys has turned into a fully-fledged charity that has a range of programmes and support groups to help teenagers and their families. Now Kaydi's planning to establish a physical home for Diversified, so that its services can be accessed by even more people in the local community.


Discover all our finalists!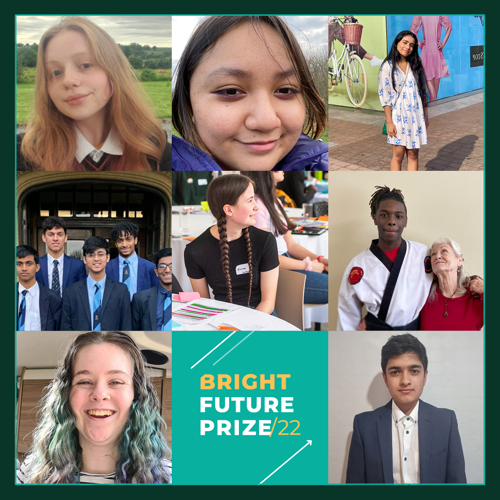 Over the next month, we're hearing even from all eight of our teen finalists. Through our Finalist Showcase videos, they share what inspired their idea and why they're passionate about it.
If you can't wait, discover them all and read about their bright ideas for community projects.
Stay up to date with all things ACT
We love sharing photos and stories from colleagues and causes we have supported.  Follow ACT on our socials @ArdonaghCT. You can choose from Instagram, Twitter or Facebook – or all three!