Over £50,000 of funding awarded to causes nominated by Ardonagh colleagues
Throughout the year, ACT (Ardonagh Community Trust) supports the people, causes and communities that matter to Ardonagh colleagues through the ACT Community Grant programme – which provides the opportunity for employees across the Group to apply for funding of up to £5,000 (or equivalent local currency) towards a charitable project or cause close to their hearts.
In 2022, ACT provided more than £155,000 in grants to support 34 charitable causes and projects put forward by our people.
Today we share the 12 fantastic causes being supported by the first round of grants for 2023 – ranging from refurbishments to local homeless hubs to food redistribution projects and interactive pods to teach children about sustainability.
Read the stories behind each of the projects that have successfully received funding and why our colleagues nominated them.
Custom-made bikes to help children with special needs build confidence
SCAMPPS in Surrey
Nominated by Martin King, Towergate, Ardonagh Advisory
SCAMPPS provides essential support to children with a range of complex and special needs, from cerebral palsy to Down's Syndrome, and their families. With over 300 members, the charity is a network of support across Surrey. They have provided over 230 items of specialty equipment to enhance children's lives and often to simply enable families to get out and about together.
For Towergate colleague, Martin King, SCAMMPS has played a key role in support his daughter who has Down's Syndrome – and many more families just like his.
The £5,000 grant will fund two specialty trikes, which are custom built to provide the perfect fit for the child. The trikes can really help a family spend quality time together in the fresh air and offer a great form of exercise for a young person who may otherwise have limited mobility wise. Once the benefitting children outgrow the trikes, they will be donated to Special Needs schools, helping many more children.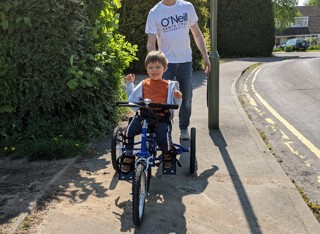 Often special needs young persons can be excluded from the simplest of family activities that others take for granted. One of the aims of SCAMPPS is to enable parents to better support their children's ongoing development including acquiring specialist equipment like, trikes and bikes, and sensory toys which means the family can spend quality time as a family sharing an experience. It is personal to myself as my daughter has Downs Syndrome with learning difficulties and we have been members of SCAMPPS for many years. They enable my daughter to mix with her peers and us as parents to share experiences with other parents and realise we are not alone. Often there is nobody else within the wider family that has any experience. This funding will be used to purchase custom made bikes and the look on a young person's face when they are able to cycle for the first time is way beyond the value of the bike.
Martin King, Towergate, Ardonagh Advisory
Founding a new programme of support packages for disadvantaged school children
The Forest Academy
Nominated by Sam Whitnell, Piiq Risk Partners, Ardonagh Specialty
Based in East London, The Forest Academy supports the surrounding community in an area of high social depravation. The secondary school has pupils from a diverse range of backgrounds, including refugees, asylum seekers and children in temporary accommodation.
The school plans to further develop their support by establishing a new emergency support package service for families in time of crisis. As well as food packages, the school will also put in place school uniform packages and care packages providing sanitary products and toiletries. The £5,000 grant from ACT will fund all set-up costs for the new programme, as well as enabling provision into 2024.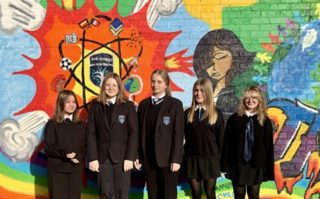 My partner is Assistant Vice Principal at the school, so I see the work that goes into what she does and the time and efforts that are put in to ensure children and families have access to the basics in life. With more than 800 students, the school anticipates that around 10% of their students go through some sort of domestic or financial crisis each year – so in the range of 100 families per annum. The support packages will make a huge difference to those in need.
Sam Whitnell, Piiq Risk Partners, Ardonagh Specialty
Enabling vulnerable people to access legal assistance in times of need
Cumbria Law Centre
Nominated by Clare Anchois, Communications, Group Functions
Cumbria Law Centre (CLC) is a community-focussed specialist legal advice agency that offers free advice and representation to individuals and families across Northern England who are facing a host of challenges ranging from poor mental health, low income or the threat of losing their home.
In a single year alone, the charity helps over 300 people to win benefits appeals (90% success), to resolve complex and distressing employment issues, and support individuals who are in severely poor mental health to access emergency support.
Group Communications colleague, Clare, volunteers to share her communications skills with the charity whenever they need them. The cause is very close to heart having grown up in the area, and her cousin being a case manager for the charity.
CLC employs solicitors and specialist caseworkers who are willing to work for much less than in the private sector, meaning CLC's breakeven cost for legal work is only around £50 per hour. The £5,000 Community grant will fund support for 25 people – with the impact of settling a case having ripple effects that are felt far into the future for the individual involved and their family.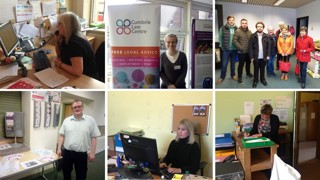 Cumbria Law Centre's clients are not just a set of statistics or stories. They are real people, with real struggles and hardships, who are just trying to live a reasonable life despite the challenges they face or their background and circumstances. As someone who was born in this area, with strong connections to my close family members, this cause is especially close to my heart for the important work it does in the Carlisle community.
Clare Anchois, Communications, Group Functions
New heart monitors to enable life saving diagnoses
The CRY Centre
Nominated by Nicole Nolan, Arachas, Ardonagh Europe
CRY stands for 'Cardiac Risk in the Young'. The CRY Centre in Tallaght, Dublin, provides free heart screening and counselling services for people from across Ireland, with more then 5,000 having been seen by the centre to date and having raised vital awareness of Sudden Cardiac Death and Sudden Adult Death Syndrome.
Arachas colleague, Nicole, has a very close connection to the charity, having received support from it when her mum died.
The £5,000 grant would fund two Holter Monitors – a small, wearable device that records the heart's rhythm. It's used to detect or determine the risk of irregular heartbeats (arrhythmias). They are used for CRY screening to detect and diagnose cardiac abnormalities.
I would love to do something for CRY as this charity means a lot to my family. They have provided support and screenings to myself and my siblings since suddenly losing our mam 10 years ago in 2013. It would make such a huge difference for the centre and hopefully other families too.
Nicole Nolan, Arachas, Ardonagh Europe
Educating children about sustainability through an interactive centre
Wastesavers Charitable Trust
Nominated by Mark Farren, Towergate, Ardonagh Advisory
Based in Newport in Wales, Wastesavers educates more than 500 school children each year through its purpose-built education room – to inspire the next generation to think and act with sustainability as a priority. The charity works with local schools and groups, whose visits to the centre help children learn more about materials, recycling and protecting the planet.
Now they're improving their offering with a brand-new suite of five interactive booths to bring to life the power of key materials and recycling, with the ultimate goal of fostering a future circular economy and sustainable development.
The £5,000 grant from ACT will fund one of the five booths in its entirety, adding a valuable new facility to the charity's popular education programme.
It is so important for children to be aware of recycling so they can also teach their parents and siblings, and of course look after the environment. The climate crisis is of ever-increasing importance to our children and understanding the basics of material consumption, waste reduction, recycling is essential learning to imbed a circular economy in our society and deliver true sustainable development for the future.
Mark Farren, Towergate, Ardonagh Advisory
Refurbishing a hostel to offer a safe space for those experiencing homelessness
Crawley Open House
Nominated by Richard Hancock, Towergate, Ardonagh Advisory
Each night, the team at Crawley Open House look after more than 55 men and women, whilst they work with them to find something more permanent. Crawley has the lowest ranked social mobility rating in the South-East of England, and on a typical day, tens of people access the drop-in day centre for advice, a shower, to get some washing done, to get a hot meal or to use the computer. The drop-in facility is genuinely an 'Open House' as our name suggests – the services are available to absolutely everyone in the community who is in need of help
The £5,000 grant from ACT will be used to renovate a TV and lounge area in the hostel. The space has just been painted, and the additional funds will be used to purchase furniture and facilities to make it homely and welcoming for all those who come to Crawley Open House.
We are very pleased to be able to support our longstanding clients, Crawley Open House, who do such great work with the homeless and disadvantaged in and around Crawley. This is particularly important in these difficult economic times. This donation will enable them to refurbish the general areas of their hostel and provide much improved facilities for the homeless and those just seeking refuge from the difficult and chaotic circumstances in which they often live.
Richard Hancock, Towergate, Ardonagh Advisory
A new kitchen for a community Scout group
34th Norwich Scout group
Nominated by John Downing, Procurement, Ardonagh Advisory
The 34th Norwich Scout group is a community hub for young people – with a membership of more than 75 children and teens aged 8 to 14 years.
The Scout group is currently in the process of modernising its headquarters on the outskirts of Norwich, which is in much-need of repair having been build in the early 1980s.  Repairs to the kitchen are progressing, but in addition new cooking equipment is needed.
The £3,135 grant from ACT will go towards new kitchen equipment so that Scout leaders and Scouts alike can take part in cooking skills and events which are a special part of the group's activities.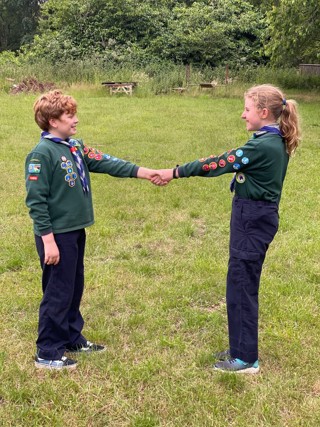 I have been involved in youth work most of my life, from being a member of a uniformed organisation from the age of seven through to being an active leader for over 25 years. We wanted to give our daughter that same experiences and learning outside of her school that we enjoyed as children and helped shape our adult life, with strong moral guidance and role models that showed giving back to the community is important.
John Downing, Procurement, Ardonagh Advisory
Championing sustainability to provided food to those in need
Shrewsbury Food Hub
Nominated by Tina Teearu, Towergate, Ardonagh Advisory
Volunteering in her local community has been a big part of Towergate colleague Tina's life, and for several years she's giving her time to Shrewsbury Food Hub, which aims to reduce food waste and help those in need across the county of Shropshire. Each week, the charity supports more than 3,000 people by sharing surplus food with local food hubs and centres across the area.
The £5,000 will go towards the charity's dedicated Food Redistribution Project, which last year alone prevented more than 175 tonnes of food being wasted – the equivalent of saving 450 tonnes of greenhouse gases (the same as driving around the globe 75 times!).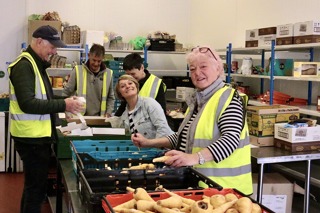 Shrewsbury has been my home for many years and volunteering has always been a big part of my life. Knowing how important and valued the Shrewsbury Food Hub is in the town, I'm proud to have been involved for so long, albeit in a small way. I also care deeply about the environment and what human society is doing to it. The Food Hub provides an invaluable service to the local community in a time of economic crisis and increasing food poverty, whilst also reducing the food industry's negative environmental impact.
Tina Teearu, Towergate, Ardonagh Advisory
Funding new kitchen and washroom facilities at a homeless hub
Lancaster and District Homeless Action Service
Nominated by Eve Dennison, Guy Penn, Ardonagh Advisory
For over 30 years, Lancaster and District Homeless Action Service (LDHAS) has grown from a drop-in centre to a day-service to support homeless people from across the region. Lancaster rates 33rd in deprivation out of more than 30,000 neighbourhoods across England, and demand on its services has grown in light of the pandemic and cost-of-living crisis.
Currently, the charity is based in temporary accommodation, however they are in the process of securing a long-term location. The site needs re-development to make it fit for purpose. The works have already begun and the £5,000 grant from ACT will enable the purchase of kitchen and laundry facilities, which will ensure the space can offer key services to those it supports.
Lancaster is beautiful, but a place of contrasts. There is deprivation and poverty here and, on any given day, at any time of year, it is impossible to ignore the increasing number of people asleep on the streets. The LDHAS team understand that it's not just lack of a house that makes someone homeless: the issues are complex, multifaceted and require dedicated experts, with funding and facilities, to start to address them. This cause matters to me because I care about people, I care about the place I live and work and because I believe everyone deserves a chance.
Eve Dennison, Guy Penn, Ardonagh Advisory
Upgrading facilities at a dog rescue centre
Waggy Tails Rescue
Nominated by Paul Chapman, Ethos Broking, Ardonagh Advisory
Waggy Tails Rescue has been looking after rescue dogs in and around Poole and Bournemouth in Southern England for almost thirty years. Over that time, thousands of unwanted and abandoned dogs have been re-homed into new, loving family environments.
Paul had volunteered for the charity for more than 10 years – giving his time and organising fundraisers to help keep the centre going strong.
Having just moved to a new premises, the £1,000 grant from ACT will go towards the installation of fencing and painting of outbuildings to ensure the facilities are in top condition for four legged friends and the many human volunteers who support the centre alike.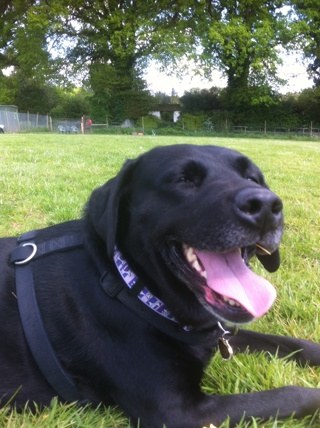 Waggy Tails Rescue are a large part of my life. I was fortunate enough to give a forever home to black Labrador named Connie from the charity. She passed last December at the age of 16 having given me the best 10 years any dog could have. I have also fostered many dogs from them before they found their forever homes and currently, I have another black Labrador on long term foster. His name is Eddie and he is my hybrid working buddy! Next year I am undertaking a 200-mile challenge to raise more funds for Waggy Tails Rescue and awareness of the problems they, and other rescue face with increased abandoned dogs due to Covid and cost-of-living crisis.
Paul Chapman, Ethos Broking, Ardonagh Advisory
Modifying a retired race car to offer driving experiences for visually impaired people
Speed of Sight
Nominated by Allan Farrimond, Atlanta, Ardonagh Retail
We previously profiled Speed of Sight, a charity offering life-affirming driving experiences for people with visual impairments and disabilities, after a donation from ACT enabled the purchase of a state-of-art toolkit to look after the charity's vehicles. Since then, Atlanta colleague, Allan, has continued to be a dedicated volunteer – offering his time and mechanic skills to keep Speed of Sight's vehicles fully operational.
Now, the charity has been lucky to have been donated a retired race car. It already has dual controls, ready for instructors to take people on drives but needs some additional specialist modifications before it can take to the track. The £5,000 will enable the car to create the perfect car, ready to take even more beneficiaries on an exhilarating drive.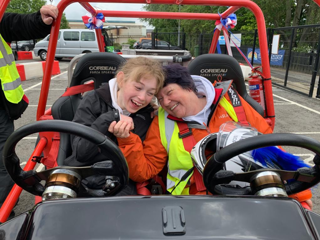 We empower disabled people of all ages. We allow a disabled child or adult a chance to forget, if only for a l while, that they have a disability. Yes! You can drive a car. Yes! You can be in control. Yes! You can be like everyone else. A chance to say I did that and to perhaps think … what else can I do? What else is possible? Just being able to help others gives purpose for being alive and just the sheer joy you see on the faces of those that have been helped by this charity make it all worthwhile.
Allan Farrimond, Atlanta, Ardonagh Retail
Supplies and assistance for people in Turkey to re-build their lives following the earthquake
The AHBAP Association
Nominated by Gulra Gulec, Treaty, Ardonagh Specialty
The AHBAP Association (AHBAP's) is a Turkish non-governmental organisation that provides all kinds of assistance to communities across the country through its network of volunteers. In particular, it works in areas including humanitarian aid and natural disaster coordination.
Following the recent 7.8 magnitude earthquake – and aftershocks since – the charity's volunteers have been involved with search and rescue efforts, collecting all kinds of aid and raising funds for the quake victims.
The £5,000 grant from ACT will go towards AHBAP's efforts to support people and communities in the affected regions.
I am a Turkish-origin employee of Ardonagh community, this devastating earthquake has affected more than 13 million people in the region. As a Price Forbes and Partners employee and Treaty team member I would like to give back to the community.
Gulra Gulec, Treaty, Ardonagh Specialty
Learn more about the impact of ACT's grant programme on the Community Grant page on our website.