Raising mental health awareness at James' Place with Ardonagh Advisory
This week marked Mental Health Awareness Week. In an ever-changing world, mental health and supporting those in need – at work, at home, and in our communities – is more important than ever.
In 2022, while on a lunchtime walk, two Ardonagh colleagues helped a man near London Bridge who was experiencing a mental health crisis. Later that day he was due to have an appointment at men's suicide prevention charity, James' Place.
Ardonagh Advisory's Kate McAdams was one of the two colleagues who took action that day. On learning of their actions and the James' Place's incredible work, ACT (the Group's charity, Ardonagh Community Trust) wanted to help them continue to make a difference and committed to helping them expand their services with a donation over three years.
To mark Mental Health Awareness Week, together with Advisory colleagues, Ecclesiastical Insurance and ACT, Kate organised a charity day alongside James' Place – to raise awareness of the charity's life-saving work and to champion mental health.
We joined Kate and colleagues on the charity day – joining a 10km walk between the Harp Lane office and James' Place near Moorgate, plus a visit to James' Place where colleagues met some of the centre's therapists and experienced some of the techniques used in therapy sessions.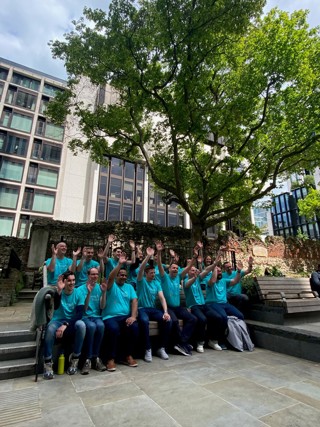 Until we met the young man that day, we had no knowledge of James' Place or the vital support they provide to men in crisis. Today was important, not only to raise money for James' Place, but to raise awareness of their existence. Last year, I had the opportunity to meet the team at James' Place and hear about their intervention techniques which had a lasting impact on us and a want to continue to spread the message. By sharing this experience with our colleagues today, we hope they will do the same. No one truly knows if they, their friends or family will ever find themselves in a situation where they feel there is no way out. James' Place offers that help, and the more people that know about them can only be a good thing.
Kate McAdams, Portfolio Solutions Manager, Ardonagh Advisory
Men are three times more likely to die by suicide than women and is the biggest cause of death for men under 50. James' Place specifically aims to help men in the immediate onset of suicidal crisis – providing free treatment to men in a space where they feel safe, valued, and respected. Incredibly, the men supported by the charity are seen by a professional therapist within 48 hours of being referred, after which they are supported for typically around two months with dedicated sessions to help them through crisis.
Since officially opening its permanent East London home in May last year, and in addition to its initial centre in Liverpool, James' Place aims to open three further sites in Birmingham, Bristol and Newcastle Gateshead by 2026 –with the ultimate aim that 50% of men across England are within 2-hours drive of its one of its sites. Already, the London centre has helped 250 men, and the new centres will enable even more men to access vital support when it matters most.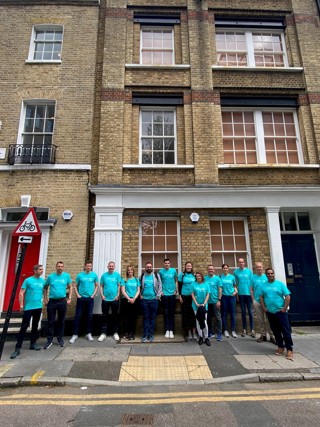 I was humbled by the expertise and dedication of the staff at James' place. Also, I was surprised to come away with a much better understanding of how people actually feel when they are going through a mental health crisis which I'm hoping will make me more aware moving forwards.
David Haddock, Head of Digital Insurer Partnerships, Ardonagh Advisory
Visiting James' Place was a really poignant experience and it hugely reinforced the need for these organisations, more so than ever before against the backdrop of the pressures facing the NHS, the cost of living crisis and the aftermath of the pandemic. It's crucial that we have safe and open environments that people can go to in times of need to ensure we can help prevent people taking permanent action on what is often a temporary problem. I really took away that James' Place is providing a discreet, non-clinical environment for men to discuss their issues in a calm environment, where they are treated as clients, as opposed to patients.
Mark Brannon, Commercial Director, Ardonagh Advisory
Ardonagh Advisory Chief Commercial Offer, Phil Bayles, shared his own perspective on the vital importance of taking action to support wellbeing and why events like Mental Health Awareness Week are valuable.
Events like the Mental Health Awareness Week are excellent as they act as a catalyst for us to stand back from our day-to-day activities and try to understand how friends, family, and colleagues are coping and what we might be able to do to help in any way. Sometimes we can be 'too busy' to see the signs of someone who is struggling to cope. Like many people, I have lost friends to suicide and know others who are struggling to keep going. I don't want to be reflecting again on why I didn't know or what more I could have done, I want to encourage people to be pro-active in reaching out to people who may be struggling. It can feel difficult to reach out, but as Kate and Stef proved at a critical moment, it's so much better to act than to walk on by.
Phil Bayles, Chief Commercial Officer, Ardonagh Advisory
Each year, Ecclesiastical provide grants to causes nominated by brokers they work closely with through their 'Closer to You' programme. Thanks to the efforts of Kate and the Advisory team, a £10,000 grant from Ecclesiastical has been made to James' Place.
In addition, the Advisory team raised a brilliant £1,100 for James' Place and ACT will be recognising the team's fantastic efforts and the generosity of Ecclesiastical by donating a further £5,000.
As a company whose purpose is to contribute to the greater good of society, charitable giving is at the heart of our business. I'm really pleased that we've been able to support this fantastic fundraising initiative and build on our partnership with Ardonagh by donating £10,000 to James' Place, and which we're delighted ACT will further add to.
Chris Withers, Broker Distribution Director, Ecclesiastical Insurance
We are so grateful to Ardonagh Community Trust for raising funds for us. Suicide is the single leading cause of death for men under the age of 50 and we want to change that. Money raised will help us to continue to offer free, life-saving treatment to suicidal men in London and the North West as well as move forward with our plans to open three new centres in Newcastle, Birmingham and Bristol.
Amy Swart, Head of Fundraising and Communications
Learn more about James Place by visiting their website, https://www.jamesplace.org.uk/

Learn more about ACT's charity partnerships
Through our charity partnerships we deepen our support for the causes our Ardonagh people care about. Read more about our support for key spotlight causes on the Charity Partnerships section of the ACT website.