Ride4Life ready to return for 2023
It's back! This September, the Ride4Life challenge returns to take on another epic cycling route to raise funds for a fantastic cause.
This year the cycling team, formed from colleagues across Ardonagh, will make their way to the Emerald Isle to complete a 133-mile route around Galway in support of a charity close to the hearts of many around the Group – Cancer Fund for Children.  
Now in its seventh year, Ride4Life has already raised £60,000 for charity. With each new route, the annual event has grown and this year thirteen riders will be taking part – with the goal of taking the team's overall fundraising total past the £75,000 mark.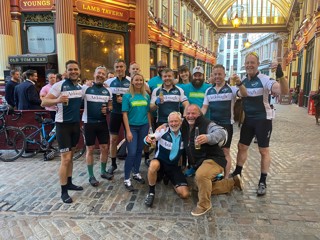 The story behind Ride4Life
Ride4Life's story began in 2016, when it was founded by Lutine Director, Andy Coles. Andy was a passionate advocate for doing good, and together with his friend Damien Natale and a core group of colleagues, he led the first ever Ride4Life to raise vital funds for charity.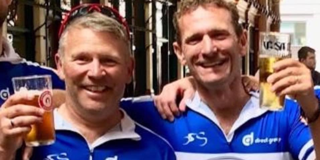 Their first ever Ride4Life saw the team cycle 185 miles from the Uris Group and Lutine offices in Doncaster to London, where Lutine was founded in 1989. The ride quickly became an annual tradition, with different routes being conceived each year and different colleagues from around the Group donning Lycra to join the challenge – but always in aid of a good cause.
In 2020, the ride took on a new meaning. Whilst on a training ride, Andy and Damien were tragically killed. This has reinforced the spirit of the challenge to make a difference and the team have continued to cycle with Andy and Damien's passion for giving at its core.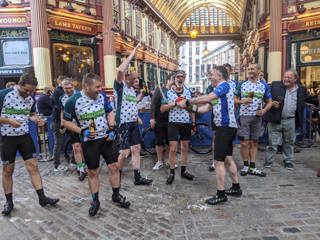 To date, Ride4life has raised £60,000 for four incredible causes: Cancer Research UK, Mind, Cyclists Fighting Cancer and most recently in 2022, ACT's charity partner, Samaritans. This September, the team will be pedalling for Cancer Fund for Children, a cause many around the Group are close to and have been involved with already this year through Rory Best's Miles 2 Mayo event.
"This event is so very close to my heart. Founded by my brother Andy and his close friend Damien, who were both tragically killed in 2020, the fact Ride4Life continues to take place in their memory and the philanthropy they demonstrated makes me extremely proud. This year has been made even more special, as I'm delighted to share that my son Ryan who has recently transferred from AXA to Arachas will also be joining the peloton using one of Andy's bikes in his uncle's honour. "A huge thank you to those across Ardonagh who have already committed their support to this event, be that by riding, by sponsoring or by championing Ride4Life in your businesses. A special thank you to Autonet, Arachas and Enterprise for their support with the on-the-ground logistics and route planning."
Andy's brother, Derek Coles, CEO Retail MGA and ACT Trustee, shares why the ride resonates so strongly for himself and around Group.
2023's challenge on the Emerald Isle
This year's ride will take place on Friday 22 September when the Ride4Life team will embark on a 133-mile route in the West of Ireland.
Setting off from the Arachas office in Galway, the team will cycle along part of the famous Wild Atlantic Way – taking on plenty of hills and travelling through the spectacular landscape – before looping back to finish in Galway's central Eyre Square.
The Ride4Life fundraising page is open for donations now, as the team prepare for their ride next month.
Meet the team…
As ever, the Ride4Life team is formed from colleagues from across Ardonagh. Sitting on the saddles this year we have:
Gavin Pumford, Head of Operations - Geo Agriculture
Max Burrows, Group R&C Framework Director – Ardonagh Group Functions
Paul Longhurst, Managing Director - UK Wholesale Division - Bishopsgate
Nick Lerway – Friend and Ride4Life veteran
Rob Worrell, CEO Ardonagh Advisory
John McCarthy, Chief Financial Officer - Arachas
Cathal Lowe, Insurance Relations Director – Arachas 
Ryan Coles, Portfolio Support and Property Underwriter - Arachas
Paul Emery, Home & Commercial Analytics Lead - Atlanta
Graham Hepburn, Keey Partners 
The ride's chosen charity, Cancer Fund for Children
Cancer Fund for Children supports children and their families across the island of Ireland experiencing cancer. The charity is on hand for families at every step of the journey, and through their incredible Daisy Lodge facility, provide respite holidays so they can spend much needed time together.
Alongside Daisy Lodge in County Down, Cancer Fund for Children are about to begin building a second centre close to Lough Corrib in County Mayo. Already, Ardonagh colleagues have made a huge contribution to the centre's build, most recently through the amazing support for Rory Best's Miles2Mayo event.
In the spirit of Ride4Life, the funds raised through this year's ride will be used to purchase bikes for children and their families to use during their stay at Daisy Lodge to explore the beautiful surrounding area and spend quality time together.
Show your support