Rory Best hits the €1million mark for Cancer Fund for Children
Last week, our Business Development Director, ACT Trustee and rugby legend Rory Best completed his epic Miles 2 Mayo walking challenge in support of Cancer Fund for Children, raising an incredible €1,000,000 – with more donations still to come.
Starting out from the Aviva Stadium in Dublin on the 16 May, Rory and his wife Jodie walked 330km through counties Dublin, Kildare, Laois, Tipperary, Limerick, Clare, Galway and Mayo over ten days. Along the way, they were joined by some of the families that are supported by Cancer Fund for Children, some former teammates, various public figures, other sporting heroes and sponsors and supporters of the cancer charity.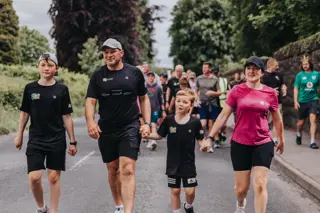 A special mention to all our Arachas colleagues who got involved right from the start, whether it was cheering by the roadside, shaking donation buckets,  organising local events - including a star-studded breakfast and panel discussion at Thomond Park in Limerick and an Arachas hosted Welcome to Rory to Eyre Square in Galway – or sharing this amazing challenge with friends, family and clients to drum up donations. The team together with their clients have contributed a huge €68,000 raised to date, with more events to come.
In addition, ACT, Ardonagh's registered charity, is delighted to be contributing an additional £50,000 (€58,000) in recognition of Rory and the wider Arachas team's amazing contribution to this stand-out cause.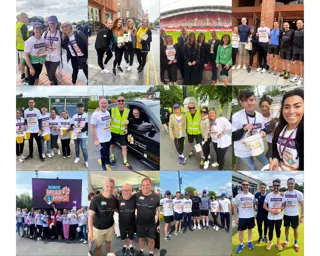 The funds raised by Rory's Miles 2 Mayo 2023,  will help Cancer Fund for Children continue to expand its services across the island of Ireland and progress with the building of Daisy Lodge, a respite centre providing much needed breaks for children and their families. Daisy Lodge County Mayo will be the charity's second centre, together with Daisy Lodge in County Down, which opened in 2014.
"There have been many highlights throughout my professional career but the last 10 days have been incredibly special. I have met so many inspirational children and families who are navigating a childhood cancer diagnosis and heard some heart-breaking and inspiring stories from children, parents, and health professionals. Their experiences helped keep me motivated along some of the more challenging parts of my journey. My walk may be complete but the fundraising efforts continue. Please give as generously as you can to support Cancer Fund for Children and help ensure no child or young person on the island of Ireland has to face cancer alone."
Rory Best, ACT Trustee and rugby legend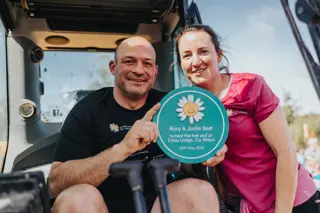 Speaking about the walk, Phil Alexander, CEO, Cancer Fund for Children said, "Every week across Ireland, 10 children and young people (aged 0-24) are diagnosed with cancer"
"Our mission is simple, to help ensure that no child or young person has to face cancer alone. We cannot thank Rory and his wife Jodie for all they have done to drive awareness of this cause and raise much needed funds to build our second Daisy Lodge in Cong Co. Mayo. We understand the devastating impact a cancer diagnosis and its treatment can have on the whole family, and that beyond the essential medical care, many families need social and emotional support which is why we are also developing community services across the island of Ireland and building this second therapeutic short break centre.
"Each year, Cancer Fund for Children supports over 1,500 children and young people and 500 families impacted by cancer with therapeutic short breaks at Daisy Lodge in Newcastle Co. Down, the inspiration for our second centre which will be built on the shores of Lough Corrib in Cong. Once Daisy Lodge Mayo is operational, we will be able to support more than double the number of families each year."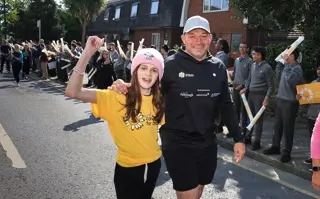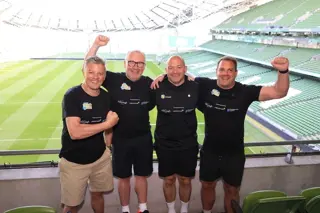 I was privileged to join Rory on both the first and last day of his challenge and the energy and enthusiasm that surrounds him is unmatched. It was incredible to see that the support never wavered and the atmosphere when he crossed that finish line was electric. Sponsoring this event alongside Arachas was one of those moments where you realise the power of what we can do when we come together. Let's not forget though the reason Rory and many others get behind causes like this are because of the stories of those who have sadly been impacted by cancer. Not only is it life-changing and sadly sometimes heartbreaking, it also truly impacts the entire family. Charities like Cancer Fund for Children really do give people a break from all the challenges a diagnosis brings, and I'm delighted we've been able to help get them that bit closer to their target to open a new centre.
David Ross, Ardonagh Group CEO and ACT Trustee
Spotlight on Cancer Fund for Children
Cancer Fund for Children is there to help, guide and support families through their services including individual support, group support and therapeutic short breaks. Thorough this work Cancer Fund for Children helps to empower family members, so they feel better equipped to cope with the emotional impact of cancer.
Funds raised through the Rory's Miles 2 Mayo campaign will go towards the building of Daisy Lodge in Cong, Co. Mayo, a therapeutic short break centre for children impacted by cancer and their families.
This will be Cancer Fund for Children's second therapeutic centre, inspired by Daisy Lodge in Co. Down which has supported over 3,300 families from across the island of Ireland since it opened in 2014.
Find out more on the Cancer Fund for Children website and you can help Rory get to his fundraising target of €2Milllion on the Miles 2 Mayo website.