Showcasing ACT's contribution to society in The Ardonagh Group's first sustainability report
The Ardonagh Group has published its inaugural sustainability report – highlighting Ardonagh's commitments across five key areas. As the Group's registered charity, we were delighted to be featured, showcasing the contribution that we made to the society pillar over the past year.
Kelly-Ann Knight, Chief People Officer at The Ardonagh Group, spoke of the importance of ACT in furthering Ardonagh's sustainability agenda.
ACT is not just something we do, it's who we are and it's at the core of every commercial decision we make. A determination to look out for others, to acknowledge our position of privilege and to prioritise charitable and community giving; these are the traits we nurture and the behaviours we empower.
Kelly-Ann Knight, Chief People Officer, The Ardonagh Group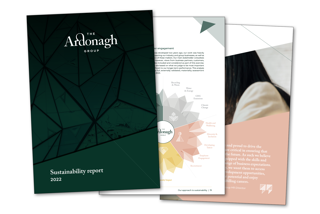 The report highlights the achievements of both ACT and The Ardonagh Group. From a charitable perspective, it demonstrates the impact  the Trust has delivered from funds raised, the range of causes supported and the stories behind some of our work.
A particular focus is the ACT Bright Future Prize, which empowers the next generation to champion causes in the communities that matter to them. This year's prize attracted applications from across the Group's international base, including entries from Australia, South Africa, the USA and Ireland.
Also showcased is our annual 'Give Back' event, which in 2022 went bigger than ever – taking over an entire week where colleagues from across the Group and around the world came together and gave back time, funds and goods in support of local causes important to them. All funds raised by teams and offices were match by ACT, to raise a grand total of almost £250,000 for more than 90 different causes.
As insurance industry professionals, working to serve the needs of our clients and customers, we're uniquely connected to our local communities – looking out for those who need it most lies at the very core of what we do as a business. By joining forces across countries, local communities and all areas of our diverse set of businesses, we can mobilise support for a broad range of causes – helping them become better, brighter and stronger.
Ashley Hammond, Head of Charity and Community
ACT is incredibly proud to be featured in this report and you can read it in full and learn more about Ardonagh's sustainability agenda on the The Ardonagh Group website.
.
.
.