Smashing our target to raise £100,000 for Samaritans
We're delighted to share that we've smashed our fundraising goal, reaching a phenomenal £100,000 in support of Ardonagh Community Trust's (ACT) partner – mental health charity, Samaritans.
Mental health is a cornerstone cause for ACT. It's a central part of the Trust and close to the hearts of our colleagues across Ardonagh. Samaritans, which operates across the UK and Ireland, provides 24/7 support to anyone struggling, in its mission to save lives by making sure there's someone there for anyone who needs help when it matters most.
Since beginning our partnership in April 2021, it's been terrific to see colleagues time and time again show their support and raise funds towards Samaritans' vital work – from individuals taking on their own fundraising challenges like the Samarathon, to joining forces through events like Ride4Life.
From fundraising challenges and clever quizzes to innovative schemes and fitness feats, ACT together with our Ardonagh colleagues have gone above and beyond to demonstrate or commitment to mental health and wellbeing.
How, together, we reached £100,000
The partnership was kick started with a £25,000 donation from ACT, but since then it's been our colleagues who have led the way to raise awareness and funds for Samaritans.
In August 2021, the Ride4Life team completed an epic 202-mile ride from Doncaster to London, in honour of the event's founder Andy Coles and his friend Damien Natale, who sadly lost their lives while training for the 2020 cycle. With their Samaritans jersey blazing along the route, the team were met with a welcome part from the charity at the finish line Leadenhall market to celebrate raising over £25,000.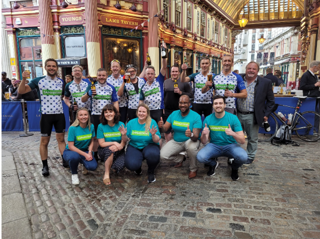 Ride4Life is an amazing thing to be part of, a real feeling of teamwork and camaraderie is evident in spades. Whether it be training rides, the nervous build-up, or the event itself; everybody pulls together. The loss of Andy and Damien in 2020 gives us added incentive to ride hard and support charities in the same way they did. We miss them incredibly, but it still feels like they are riding with us – all due to the passion and vision they instilled in us all.
Gary Bennett, Lutine and Ride4Life team member
Moving into 2022, we saw colleagues yet again think of new ways to raise awareness and funds for Samaritans.
Early on in the year the year, Ardonagh Specialty colleagues came together to complete a Tough Mudder obstacle course in London, raising more than £1500.
During Mental Health Awareness Week in May, colleagues from Besso, Bishopsgate Insurance, Ed, Inver Re and Price Forbes & Partners took on a team of Underwriters from across the London market, as well as Ardonagh's own Geo Specialty, in the inaugural Ardonagh Specialty Charity Cup Match.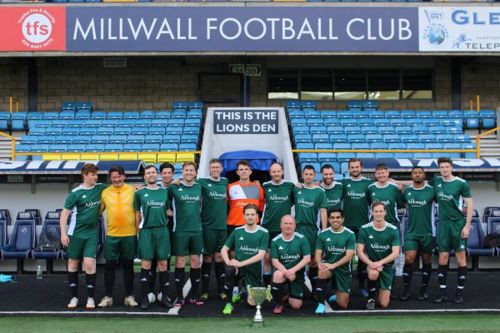 After 90 minutes of battling, it was a 3-3 draw at full-time meaning it came down to a penalty shootout, with the win going to Specialty – and £1500 raised for Samaritans.
Support for mental health has and continues to be a huge part of the Ardonagh ethos. It felt an ideal opportunity to come together across the organisation to proudly support Samaritans in their mission to make sure people feel there is someone there to talk to. The event was a huge success and our colleagues across the business showed an incredible passion to be involved and help raise funds for our charity partner.
James Brewing, Director - Energy, Bishopsgate
In June, Ardonagh Retail colleagues – or Team Frazzles – took on the summer heat to scale Mt. Snowdon in Wales, raising over £2000 with ACT match funding.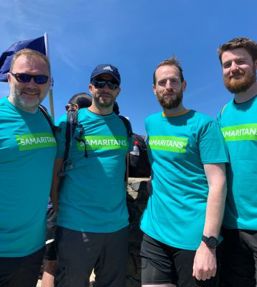 We called ourselves the Frazzles as we knew that's what we would look like afterwards! We're not all walkers, but have a lot of willpower, so we knew we could make it to the top…and back down unassisted! We chose Samaritans as we know people have struggled with their mental health in lockdown (and since). The day itself was great, even though it was a lot hotter than we expected! It was very physically demanding, but then when you consider the effort Samaritans go to provide support, it was nothing. Great views, great company, great charity!
Team Frazzles – James Fowler, Anthony Armstrong, Leon Carford, Ryan Grover
As well as raising an incredible amount of money for Samaritans, many of our Ardonagh ">Mental Health First Aiders have also been increasing their knowledge of mental health and wellbeing by joining Samaritans' webinar and education sessions. These have helped provide insight into emotional health, as well as sharing by sharing tips, tools, and resources to help everyone look after themselves, as well as those around them.
Thank you to every single colleague who has helped us reach this incredible sum. We hope these stories have inspired even more of our colleagues to get behind Samaritans as our partnership continues!
Samaritans is available day or night across the UK and Ireland, for anyone who is struggling to cope or just needs someone to listen without judgement or pressure.
Find out more about ACT and the stories behind the charities and causes we have supported on the Our News section of the ACT website.
Plus, see the fundraising endeavours of our Ardonagh colleagues by following ACT on Instagram, @ArdonaghCT!