Spectacular grand total at the ACT Gala Dinner 2022
Last week, 350 guests joined together for a Gala Dinner in London to mark five years since the creation of our company charity, Ardonagh Community Trust (ACT) . Members of Ardonagh, industry leaders and business partners gathered to celebrate the impact the Trust has had since 2017 and to raise further vital funds to ensure you, the people of Ardonagh, can continue using ACT to give back to the local causes, charities and global issues you care about now and into the future.
Thank you to our guests, sponsors, and partners – and auction bidders – who enabled us to reach the incredible grand total of...

Ardonagh Community Trust was borne out of a moment of solidarity, when in 2017 the Manchester bombings took place. 22 people lost their lives, including 14-year-old Eilidh from the Isle of Barra in Scotland, whose aunt, Margaret, was an Ardonagh colleague. The event catalysed the creation of ACT as a formal charitable platform accessible to all our people across Ardonagh. Five years on, from this one act, has grown global impact – from supporting grass roots community projects to international causes.
The continued success of Ardonagh has and must continue to mean the world around us is made a better place. "Thanks to the enormous generosity shown by our Gala Dinner guests, this fundraising will ensure all employees can continue giving back to their local communities well into the future, while also providing ACT with the firepower needed to respond to global challenges on behalf of our colleagues around the world. "From hundreds of small acts, the people of Ardonagh have created a truly incredible impact over past five years and I can't wait to watch the next chapter of ACT unfold as it continues to be led by them and invest is causes close to their hearts.
David Ross, The Ardonagh Group CEO and ACT Trustee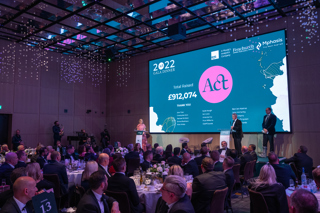 Five fantastic years… and many more to come
The Gala Dinner provided an opportunity to celebrate the 700+ causes ACT has supported so far, and to raise funds needed to ensure we can continue to do good by giving back as we move forward.
Building the pathway to Daisy Lodge
As well as raising funds for ACT, we were delighted to spotlight a cause that is close to many across The Ardonagh Group and beyond – Cancer Fund for Children.
Based in Ireland, Cancer Fund for Children's aim is that that no child should face cancer alone. For over eight years, the charity has provided short breaks to families at Daisy Lodge in County Down – a world class therapeutics centre where families are given the space that allows them to simply be a family again.
Plans are now underway to build a second centre. Daisy Lodge in County Mayo will increase the number of children and parents in Ireland supported each year from 1,800 to 4,000, so that even more families the opportunity to spend quality time together.
ACT has always been led by our colleagues to champion the causes and communities that matter to them, and our Gala Dinner was no different. From ACT Trustee Rory Best's phenomenal Miles 2 Mayo 180-mile walking challenge to the numerous fundraising activities by our colleagues in Arachas and beyond, we've seen how much this cause connects to the hearts of our colleagues and the communities in Ireland alike.
At last week's Gala Dinner, the live auction featured special lots specifically to raise funds for Cancer Fund for Children's Daisy Lodge Co. Mayo – a series of limited edition, commemorative bricks. Not only did each winner receive a beautiful, personally engraved brick, each one will translate to a corresponding engraved brick that will form part of the end construction of the path leading towards the main Daisy Lodge building.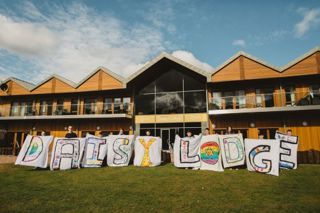 I was honoured to attend this remarkable evening of fundraising for the Ardonagh Community Trust and Cancer Fund for Children. The welcome we received and was truly humbling. It is incredibly reassuring to have Ardonagh Group's friendship and support as we drive forward with our mission to ensure that no family across the island of Ireland has to face childhood cancer alone. With charity partners like The Ardonagh Group by our side, we look forward to opening a new therapeutic short break centre for children diagnosed with cancer and their families in County Mayo.
Phil Alexander, CEO Cancer Fund for Children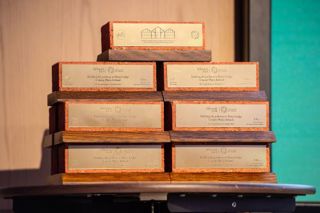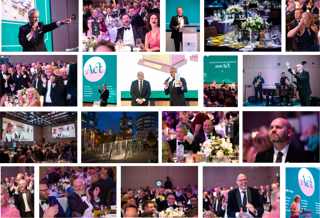 Re-live five years of ACT with the ACT Fifth Anniversary Book
As a thanks for helping build better, brighter and stronger futures with us, we have created the ACT Fifth Anniversary book, which showcases stories from colleagues and charities around the world and where we're heading as we enter ACT's next chapter.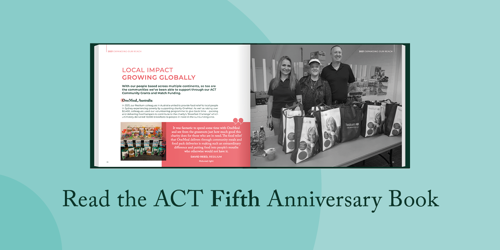 Take a look the digital version of the ACT Fifth Anniversary Book to read stories from colleagues around the world and find out where we're heading as we enter ACT's next chapter. Plus, find a hard copy in all our major offices globally.
Find out more about the projects and people behind ACT on the Our Stories section of the ACT website.