Who's on the shortlist? Meet our Bright Future Prize finalists
We're ready to reveal the finalists of the Ardonagh Community Trust Bright Future Prize 2022. This year, we received applications from young people right across the world. Get to know each of the eight teenagers who have made our shortlist and learn more about their bright ideas for community projects to make a difference.
The ACT Bright Future Prize empowers young people aged 13-19 based anywhere around the world where Ardonagh has a presence, to become the next generation of community leaders.
In our second year of running the prize, we received almost three times the number of applications we did in 2021 and from teenagers around the world – including Australia, Ireland, South Africa, the UK and the USA. The ideas shared were equally diverse, ranging from campaigns to raise awareness of gender equality and language apps to first aid and tools to tackle river pollution – to name just a few!
Say hello to our Bright Future finalists!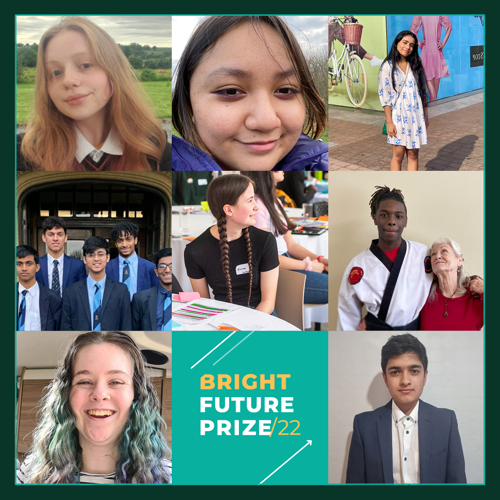 It was an incredibly tough process, but at the end of June our ACT Trustees selected eight fantastic young people, who together form our Bright Future Prize 2022 shortlist and have the chance of winning a share of the £40,000 prize fund to turn their ideas for community projects into a reality.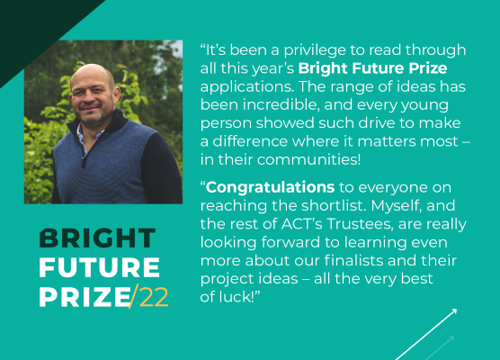 We'll be sharing videos from each our teens in the coming weeks as part of our Finalist Showcase, but for now here's a snapshot of each of our finalists alongside their ideas to make a difference.
Follow ACT on Instagram to make sure you're first to see videos from each of our shortlisted teens.
Helping 'Ninja Nanas' combat loneliness – Jeffrey Wall Jnr, Ohio USA
Jeffrey earned his black belt aged just 13, and in the four years since has used his skills to set up his own non-profit organisation 'Golden Age Karate', teaching martial arts to senior citizens (aka his 'Ninja Nanas') in local nursing homes. Having seen his own grandparents experience loneliness, he wanted to make sure older people living away from their family had something to look forward to. Whether 70 or 101, Jeffrey believes his students have so much to learn and enjoy whatever their age!
Jeffrey's idea is to fuse this work with his other major passion – film. He wants to use his unique position to create a documentary that showcases the important stories behind his ninja nannas to highlight their life experiences and their value to the community. Jeffrey previously appeared in a film that led to him setting up several new chapters in more nursing homes. Through this documentary he hopes to go a step further and to inspire other people to give back to older people who are local to them – whether that be martial arts or something else entirely.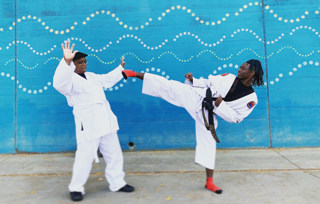 Creating innovative wooden wind turbines – Sara O'Beirne, Co. Leitrim Ireland
Sara's bright idea started as a desire to find a more environmentally friendly way to generate wind power. Traditional fibre glass wind turbine blades are expensive and can't be recycled – and a massive 43 million tons of fibre glass will enter landfill by 2050. To tackle this, Sara has designed an eco-version made from wood, which she's been testing and refining for over a year.
Sara's design is ready to move from the 3-D modelling software to the machine, and she hopes to purchase a computerised manufacturing machine to begin producing her blades. Initially Sara will sell her blades locally, but ultimately, she wants to take them across the world, particularly in Africa where affordable, renewable energy is so important to establish.
Upcycling uniform to give back – Muhammad Karbhari, Blackburn, UK
Uniformity started out as a student-led social enterprise at Tauheedul Islam Boys' School in Blackburn that provides an innovative solution to accessing affordable uniform and helping the planet and local community at the same time. Uniformity provides a service to upcycle school uniform by enabling parents to donate and purchase used clothing via an innovative e-commerce platform – but here's the difference, the profits go straight into the school's food bank. As a result, not only does it provide a way to reuse uniform and tackle the environmental impact of clothing it also helps local people access vital supplies.
Muhammad coordinates all the dry cleaning and organising stock to get it to parents. Now, with the enterprise is growing, and the team hope to expand to more schools in the area, so they are planning to purchase their own dry-cleaning machine to reduce cost and to upgrade their online platform to make it simpler to donate and purchase clothing.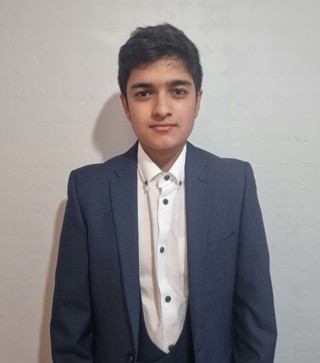 Inspiring future scientists through robotics – Sci Squad, London UK
Sci Squad was created by by five aspiring STEM (science, technology, engineering, maths) entrepreneurs – Abdur-Raheem, Anubhav, Utkarsh, Arya, and Yashaswar. Together, they have been sharing their passion with primary-aged children aged 9-11 years old in their local area by providing an opportunity to get involved with their community-led robotics programme.
STEM is so much more than equations and test tubes, its about problem solving, teamwork, and innovation. Through their six-week course, they help children get hands-on to design, build, and code a robot and then continue the relationship with the school through their 'ambassador' programme where they return each half-term to continue teaching skills. Having already piloted their idea in one primary school (and been invited back!) they're hoping to expand to nine further schools in London so that even more young children can benefit.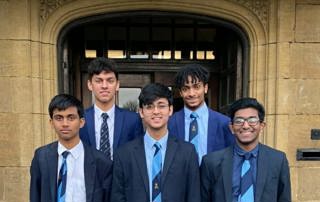 Supporting neurodiverse teens – Kaydi Scottsville, West Lothian Scotland
Neurodiversity is increasingly being recognised, but there's still so much more that can be done to support people that identify as neurodiverse, which includes a whole range of conditions from autism to dyslexia and Tourette's. Kaydi is using her own experience of autism and the impact of having to spend time out of school when she wasn't able to get the support she needed, to help other young people and their families have a different journey.
When Kaydi initially left school at 14, it was incredibly tough, and she felt very isolated. However, she decided to create change, which is when she set up her non-profit, Diversified. What started out as a platform to sell affordable sensory toys has turned into a charity that has programmes to help teenagers and families to access support, and most recently a hub available during the day to help teens who aren't able to attend school. Now she's planning to establish a physical home for Diversified, so that its services can be accessed by even more people.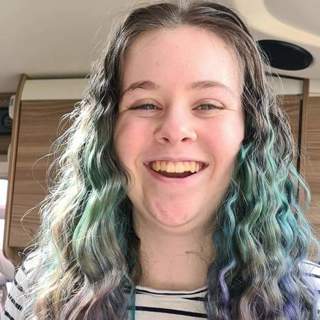 Teaching art to connect young and old – Akanksha Manna, Georgia USA
Akanksha first got into volunteering at her local care home after seeing her grandfather experience the loneliness he experienced during the pandemic when he had to isolate whilst receiving chemotherapy. She was able to be with him towards the end of his life, however she knew this wasn't the same for many other older people.
Since then, she has been heavily involved in supporting elderly people, finding not just a group of people who could benefit from support but a whole community. Akanksha plans to establish a not for profit that will deliver regular art classes to several nearby senior citizens homes local to her in Georgia. She will create a network of likeminded young volunteers to lead the sessions, to create meaningful connections across the generations, share creative skills and combat isolation.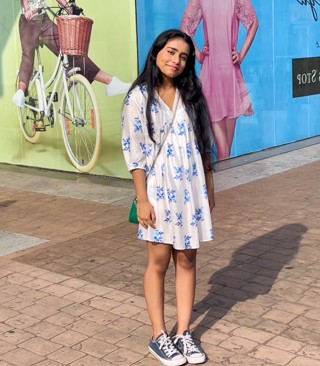 Creating cross-capital collaborative Eco hubs – Ella Soriano, London UK
The environment is experiencing major challenges, but Ella is determined to be a leading voice to promote positive change to protect the world for future generations. Ella has been a committed volunteer at Global Generation, an educational charity that works with schools, young people, and businesses across London to create environmentally responsible communities and imaginative green spaces in the city.
Ella plans to use her own passion and the expertise of Global Generation to form an Eco Council, formed of representatives from schools across London. Together the Eco Council will spearhead activities and projects, as well as support each other to establish local Eco Groups in their schools to facilitate grass roots initiatives. With family in the Philippines, Ella has seen the direct impact of climate change and how it will take collaborative action to enable global change.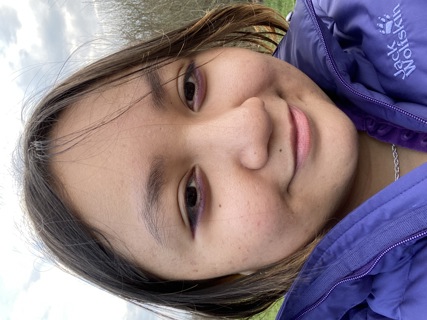 Establishing a community's first ever Pride – Eloise Evans, East Yorkshire UK
Eloise is a proud member of the LGBTQ+ community. Despite having a supportive and accepting family, she's experienced her own struggles identifying as queer and so her idea to help other teens in and around Goole in rural East Yorkshire have a community they can be part of.
Eloise has already founded an LGBTQ+ hub in Goole, and now she wants to grow it by creating a programme of activities throughout the year and secure a regular venue. Being almost an hour from the larger cities of Hull and Leeds, Eloise has found it difficult to take part in LGBTQ+ events and so wants to go a step further and establish Goole's first ever annual Pride event, so that everyone locally has the opportunity to feel involved.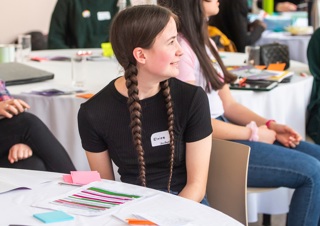 What happens next?
In the coming weeks we'll be hearing even more from our eight teens through our Finalist Showcase. In August you'll have the chance to get to know our teens through specially made videos where they share what inspired their idea and why they're passionate about it – as well as hearing from people they know who have seen their idea develop.
The final round of judging will then take place, when our ACT Trustees will select four winners, which will be announced in October.
The winning teens of our four prize categories will share the £40,000 prize fund, plus mentoring opportunities, to help make their bright ideas come to life.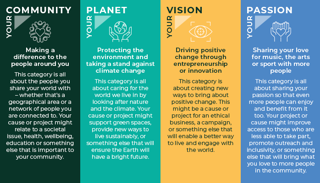 In the meantime, visit the ACT website to rediscover our brilliant finalists from 2021. Our winners, teen-trio Dawn to the Light, used their shared passion to develop a concept for a video game to help young people just like them care for their mental health.
Stay up to date with ACT
Read stories about the people and projects we have supported so far on the ACT website.
Follow us @ArdonaghCT on Instagram, Facebook and Twitter.
If you have any questions, reach out to the ACT team using info@ardonaghtrust.org.